Brexit Bulletin: Border Issues Crowd Out EU Debate
Donald Trump's travel ban puts Brexit in the shade, but asks tricky questions of Theresa May.
By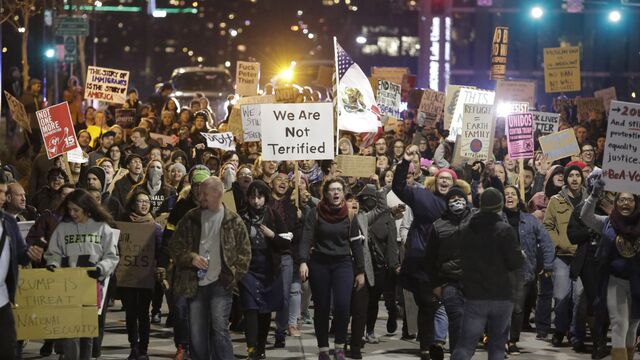 Sign up to receive the Brexit Bulletin in your inbox, and follow @Brexit on Twitter.
Brexit took a backseat as the main subject of international affairs over the weekend as U.S. President Donald Trump's travel ban on citizens from a number of Muslim-majority nations dominated the agenda.
The U.S. decision put U.K. Prime Minister Theresa May on the defensive as she ran into condemnation, including from among her own lawmakers, for not speaking out fast enough.

Her office finally said on Sunday that "we don't agree with this kind of approach" later securing clarification over what it meant for U.K. citizens, and Foreign Secretary Boris Johnson tweeted that the order would not apply to dual nationals. 
On Monday, though, the U.S. Embassy in London issued guidance insisting that it would. Shortly afterwards journalists started pointing out that might not be the case, for long.
Whatever the official position, the delay in criticizing Trump left May prone to the accusation that she was trying to protect her nascent relationship with the president. The two met in the White House on Friday with Trump holding her hand at one point and later hailing Brexit as a "wonderful thing."
Heidi Allen, a member of May's Conservative Party, scolded the premier for being afraid to tell "someone powerful when they're wrong." Before the climbdown, Iraq-born Conservative Nadhim Zahawi said he was "sad to hear" he would be banned from traveling to the U.S. A fellow Tory, Sarah Wollaston, said Trump shouldn't be invited to address Parliament in his state visit to London later this year. Five percent of the U.K. population is Muslim. 


With her slender majority, the firestorm comes at a delicate time for May as Parliament prepares to start to debating a bill granting the power to withdraw from the European Union. She may have been wary of attacking Trump given she too wants more control over her country's border. 
Before the new U.S. administration indefinitely barred the entry of people fleeing Syria, May and Trump agreed to begin work on a post-Brexit trade deal. She promised that the U.S. won't change the terms on which it trades once the U.K. is outside the EU.
May is scheduled to meet on Monday with leaders of Scotland, Wales and Northern Ireland on Monday, less than a week after the U.K.'s highest court ruled the three semi-autonomous governments have no legal right to challenge Brexit.
Corbyn Warning
Even when May is in trouble, opposition Labour Party leader Jeremy Corbyn still can't catch a break.
He was forced to say on Sunday that any members of his top team who defy his call to back triggering Brexit in the House of Commons will be expected to resign.
Corbyn defended his approach by saying many Labour lawmakers will suffer a backlash from the electorate if the party tries to block the Article 50 legislation. Almost two-thirds of all parliamentary constituencies voted to leave the EU, according to neoliberal think tank Bruges Group.
The Daily Mirror said a third of Labour lawmakers are planning to rebel, while the Sunday Times said Shadow Environment Secretary Rachael Maskell is considering following two other members of Corbyn's front bench in stepping down.
Corbyn told Robert Peston on ITV:
"I'm very well aware of the views of members... I think we would be doing ourselves a disservice if we said 'well actually, we know better than the result of the referendum.'"
Economy Looking Stronger
For Bank of England Governor Mark Carney, better still isn't good enough. While the central banker will probably raise his near-term projections for growth and inflation this week, he still may highlight potential longer-term run threats from Brexit that will damp any speculation of higher interest rates.
All but two of 19 economists surveyed by Bloomberg see Carney and colleagues raising their forecast for expansion this year from the 1.4 percent of November, while a majority see them lifting their inflation projection.

Growth eased slightly this month but remained solid, according to a survey by the Confederation of British Industry released overnight. 
Still, U.K. companies aren't turning away from their biggest market just because of Brexit. According to a British Chambers of Commerce survey, 70 percent of firms plan to at least maintain their plans for selling to other EU countries. Thirty-six percent are looking to put more resources in, versus just 4 percent anticipate scaling back.
Brexit Bullets
The U.K. and EU are heading for an economic cold war" over Brexit, Italy's deputy foreign minister tells the Guardian
Dubai-based courier and logistics company Aramex may minimize U.K. operations if Brexit talks affect free trade
Goldman Sachs CEO Lloyd Blankfein tells May that European hubs could challenge London unless she gives more priority to finance in Brexit talks, FT says
BlackRock to begin fund warnings based on Brexit exposure, reports FT
Attorney Jolyon Maugham filed a lawsuit in Dublin on Friday that could force the EU's top court to decide whether Britain can reverse Brexit after the process begins
Bank of China, Sumitomo Mitsui consider Dublin move, Sunday Independent reports
EU to cut farming subsidies as Brexit eats into budget, Spiegel says
Anti-Brexit campaigners plan London march on March 25
Lawmaker John Redwood says it's "nonsense" the U.K. must pay EU to exit
Former Deputy PM Nick Clegg says Germany's Angela Merkel was willing to do a post-referendum deal on freedom of movement in return for the U.K. committing to the single market
Chancellor Philip Hammond says Britain "will comply fully" on not negotiating trade deals while a member of the EU, but adds there are "many things we can do."
Prince Charles complains public has become "obsessed" with Brexit, Daily Telegraph reports
Economy Minister Johann Schneider-Ammann tells Blick that Switzerland "definitely" wants U.K. trade deal
Jim Farley, president of Ford Europe, told Bloomberg that weaker sterling may hurt earnings by as much as $600 million this year.
And Finally…
The falling pound isn't stopping Brits from traveling abroad. U.K. residents made 18.5 million trips overseas in the three months through November, 10 percent more than a year earlier, according to the Office for National Statistics. Almost 80 percent of them went to somewhere in Europe. 

As for those Britons settling within the EU, the ONS declared Spain the most popular location with almost 900,000 British citizens long-term residents there.

For more on Brexit follow Bloomberg on Twitter, Facebook and Instagram, and see our full coverage at Bloomberg.com
Before it's here, it's on the Bloomberg Terminal.
LEARN MORE