markets
Dollar Drops, Gold Gains as U.S. Stocks End Lower: Markets Wrap
By
Travel ban controversy drives third day of gains for gold

Administration comments on currencies send greenback lower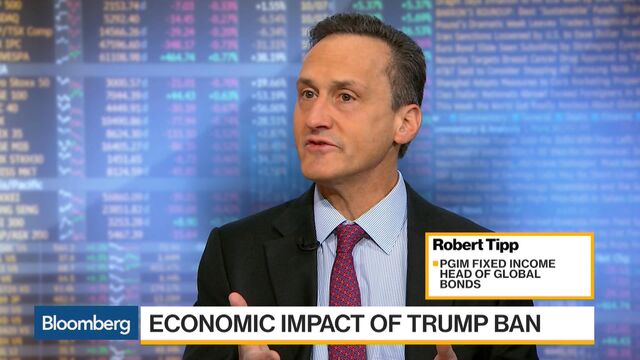 The dollar extended its worst month since March as the Trump administration reiterated its preference for a weaker American currency. Stocks capped a fourth loss as an afternoon comeback fell short, while gold and Treasuries gained on haven bids.
The dollar extended its loss in January to 2.7 percent after an American adviser called the euro "undervalued" and Trump said China and Japan "plan" their money markets. Corporate results added to weakness in American equities, while health-care shares buoyed stocks after Trump told drug executives that his intention to gut regulations and lower taxes will overshadow any ding profits take from the lower prices he is demanding. Treasuries rose with gold on haven demand.

Trump's rattling of the currency markets came as investors assessed the implications of his firing late Monday of the acting attorney general in retaliation for her refusal to defend his executive order on immigration. The political drama has dimmed enthusiasm for the administration's pro-growth policy promises and overshadowed data showing global growth may be firming. Investors are also contending with a spate of corporate results a day before the Federal Reserve's latest rate decision.
Read our Markets Live blog here.
What's coming up in the markets:
The Fed is expected to leave lending rates where they are, though its statement will be parsed for any reading on Trump's impact on the world's largest economy.
Trump plans to announce his nomination to the Supreme Court Tuesday, a move likely to dominate headlines and perhaps delay the presentation of further details on spending policies.
Apple Inc., Facebook Inc. and Amazon.com Inc. are among the major U.S. companies due to report results this week. Of the S&P 500 names to report so far, 73 percent have topped profit estimates.
Stocks
The S&P 500 fell 0.1 percent to 2,277.70 at 4 p.m. in New York, trimming a loss that reached 0.6 percent. The index still capped a fourth straight slide, its longest since the election.
The benchmark for American equity advanced 1.8 percent in January for a third monthly advance, and is higher by 6.5 percent since Nov. 8.
The Dow Jones Industrial Average lost 106.19 points to 19,864.94, after closing Jan. 26 at a record. It's gain in January fell to 0.5 percent. Small caps in the Russell 2000 Index rose 0.7 percent Tuesday, erasing a loss for the month.
Under Armour Inc. plunged 26 percent after a dismal forecast rattled investor faith in growth. Nike Inc. sank 1.3 percent to lead losses in the Dow.
United Parcel Service Inc. dropped the most in a year after a stronger dollar delivered a blow to its forecast.
Currencies
The Bloomberg Dollar Spot Index slid 0.7 percent for a third day of losses and its lowest level since Nov. 11.
Several currency strategists Tuesday lashed out at trade adviser Peter Navarro for calling the euro "grossly undervalued," urging people to "ignore him" and alleging the claim is "false." OECD data show the euro trades below fair value.
The euro rose 0.8 percent to $1.07805, while the yen jumped 1.1 percent to 112.587 per dollar.
Bonds
The yield on the 10-year U.S. Treasury note fell four basis points to 2.45 percent, leaving the rate virtually unchanged for the month.
The rate on similar maturity German bunds was unchanged at 0.45 percent.
AT&T Inc. launched a $10 billion deal on Tuesday after Microsoft Corp. sold $17 billion in debt a day earlier. Those deals pushed January issuance past the all-time monthly record of $180 billion in May 2016, according to data compiled by Bloomberg.
Commodities
West Texas Intermediate crude closed below $53 a barrel in New York as the benefit of a weaker dollar was offset by speculation U.S. supplies gained.
Oil slipped 1.7 percent in January after climbing 0.3 percent in the month's final day to settle at $52.81 a barrel.
Gold futures rose a second day to cap the biggest monthly gain since June. Bullion for April delivery climbed 1.3 percent to settle at $1,211.40 an ounce in New York.
The Bloomberg Commodity Index rose 0.7 percent to erase a decline for January, capping a third straight monthly advance.
— With assistance by Cecile Gutscher, Dani Burger, Claire Boston, Anna Edney, Zachary Tracer, and Chris Strohm
Before it's here, it's on the Bloomberg Terminal.
LEARN MORE