Aramex May Move U.K. Jobs to Netherlands or France on Brexit
by and
Dubai-based logistics group seeks Latin America acquisitions

Aramex to close acquisition deal in 2017, looks at Asia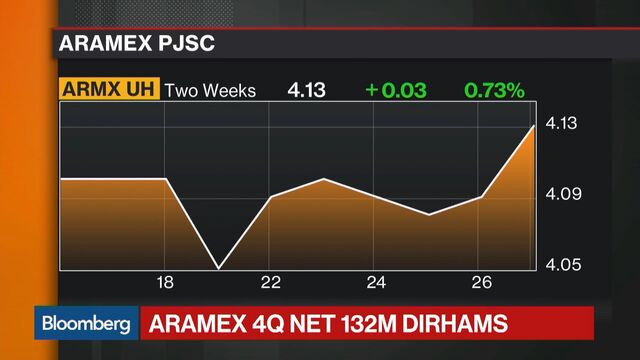 Aramex PJSC, the Dubai-based courier and logistics company, is considering minimizing its operations in the U.K. and serving Europe through the Netherlands or France if Brexit agreements do not favor free trade flows.
The company, which is listed on the Dubai Financial Market, would maintain a small hub in the U.K. but move the bulk of its operations if the U.K. and European Union don't reach an agreement supporting free commerce, which is crucial to the logistics business, according to Aramex Chief Executive Officer Hussein Hachem.
"It depends on what kind of agreement the U.K. government would be able to reach with the EU," Hachem said Monday in an interview in Dubai. "The U.K. is a big economy. Irrespective of what happens, we need to have a presence. It's too early to take a decision right now, but we're mobile. It's about customs. If that's been addressed, we will stick around. If it's a challenge, then we will minimize the U.K. hub and move somewhere else."

International companies have started to consider shifting jobs and set up offices within the EU after U.K. Prime Minister Theresa May indicated she'll pull Britain out of the single market. Aramex calls for open borders and the non-tariff flow of goods, Hachem said. The company has about 200 employees in the U.K.
Aramex is bullish on e-commerce, which still has low penetration in the Middle East, Hachem said. It expects to make "a series of acquisitions" in e-commerce in Latin America in 2018 in response to customer demand, in what would be its first big step in that market since investing in a startup in Brazil two years ago, he said. The company is considering acquisition targets in Brazil, Argentina and Chile, he said.
Shares Gain
"Lately there's a lot of political and economic reform happening in these countries," Hachem said. "It's something that we're watching. We're getting our feet wet a bit in the Latin American markets."
Aramex is seeking acquisition opportunities this year and is looking to Asia for potential deals, Hachem said. The company has sufficient cash and credit lines to fund its investments.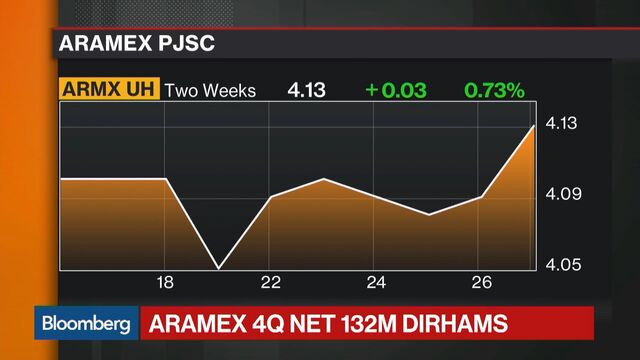 Aramex expects positive results in the first and fourth quarters of 2017 but sees a slowdown in the second and third quarters as summer holidays and the Islamic holy month of Ramadan mean weaker retail spending, Hachem said. The company expects profit and revenue to grow by less than 10 percent this year, and will review guidance at the end of the first quarter.
The company's shares gained 9 percent on Monday after it announced that its 2016 profit rose to 427 million dirhams ($116 million), beating analyst estimates. The volume of shares traded was almost five times larger than its 180-day average, and Aramex was the biggest contributor to the 0.3 percent advance in the day on Dubai's DFM General Index.
"One of the company's main strengths is its management track record in terms of value- accretive acquisitions as well as growing the business organically," said Rita Guindy, an equities analyst at Cairo-based CI Capital Holding Co., who has a "buy" recommendation on the stock. 
"The weakness in GCC markets in the last year has been compensated for by the company's diversification strategy, mainly in Asia and Australia," Guindy said, referring to the Gulf Cooperation Council, a regional grouping of six nations. "The year closed with another record profit, which should be largely sustainable into 2017."
Before it's here, it's on the Bloomberg Terminal.
LEARN MORE