markets
Kuwait Extends World-Topping Rally as Traders Dismiss U.S. Ban
By and
Kuwait's SE Price Index rises for 18 consecutive days

Iranian stocks are little changed; citizens banned from U.S.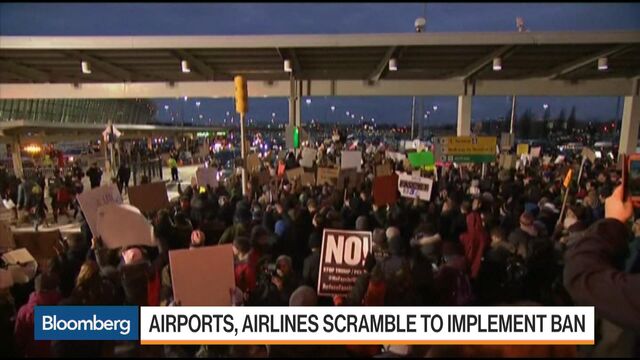 Kuwait stocks, the world's best performers this year, extended a rally to an 18th day, the longest winning streak in over a decade, as the country moved a step closer to a debut sale of dollar bonds. Gulf markets showed no reaction to a U.S. travel ban on seven mainly Muslim countries.
The Kuwait Stock Exchange Index advanced 1.3 percent to 6,943.24 on Sunday, the highest level since November 2014. The Bahrain Bourse All Share Index finished at the highest level since 2015 and Oman's MSM30 Index added 0.2 percent. Kuwait picked six banks to advise on its first international debt sale as the OPEC member shores up public finances after the slump in oil prices.
Last week's selection of bond sale managers "is probably having the biggest impact in helping continue the market's rally, in addition to the positive outlook of National Bank of Kuwait," said Hasnain Malik, the Dubai-based head of equity research at Exotix Partners LLP. National Bank, the nation's biggest lender, last week reported 2016 profit that beat estimates.
"Investors are expecting the bonds to help relieve liquidity pressures that have built up in the banking system," Malik said. "Whether there is any fundamental, lasting improvement in Kuwait's growth outlook is a different matter."
Trump's Ban
The main stock gauge in Iran, one of the countries targeted in the U.S. ban, dropped less than 0.1 percent. Two U.S. judges temporarily blocked President Donald Trump's administration from enforcing parts of his order closing U.S. borders to citizens from the seven countries and almost all refugees.
The ban wouldn't have pressured trade in the Gulf anyway, said Jaap Meijer, the head of equity research of Arqaam Capital Ltd. in Dubai. "You can still do business without having to go there."
Chart: Dubai's Dividend Quest Drives Emerging-Market Divergence
Trump's Order on Refugee Limits Draws Iran Retaliation Threat
Markets Overview:
Saudi Arabia's Tadawul All Share Index added 0.7 percent in Riyadh, while Dubai's DFM General Index and Qatar's QE index slipped 1 percent each. 
Abu Dhabi's ADX General Index dropped 0.8 percent.
Israel's TA-25 index climbed 0.3 percent as of 3:30 p.m. in Tel Aviv.
Saudi Arabia's National Commercial Bank finished up 0.1 percent. The lender recommended a one-riyal-per-share dividend for the second half of 2016, according to a statement to the local bourse.  
Analysis:
"We see a lot of appetite from retail investors in Kuwait at the moment, and that's not seen fading soon," Arqaam Capital's Meijer said. "There are some smaller stocks that are trading cheap and may have some value."
The Week Ahead:
Mexico's peso may extend last week's gain after President Enrique Pena Nieto and Donald Trump agreed to stop talking publicly about who would pay for the border wall.
Turkey's lira, the world's worst-performing currency this year, may weaken this week after Fitch Ratings cut the country's rating to junk. The company said political and security developments have undermined the nation's economy. Moody's Investors Service and S&P Global Ratings also assign non-investment grades to the nation's debt.
While a U.S. interest rate increase isn't likely on Feb. 1, "a hawkish tone that opens the door for a rate hike in the following meeting will likely give another push for the dollar," said Hussein Sayed, the chief market strategist at ForexTime.
Before it's here, it's on the Bloomberg Terminal.
LEARN MORE