Judge's Ruling Offers Tech Workers Way to Bypass Trump Order
By and
Four different U.S. Judges have curbed Trump's order

Lawyers hope U.S. case in Brooklyn will prevail on rights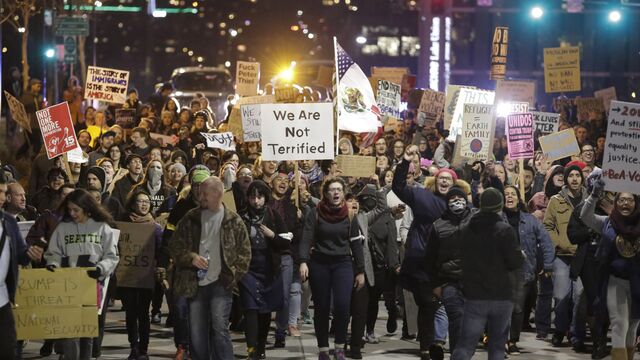 Hundreds of employees at technology companies including Alphabet Inc.'s Google and Facebook Inc. stranded abroad by President Donald Trump's ban on admissions of citizens from seven predominantly Muslim countries might have a way back into the U.S., after all.
A federal judge in Boston early Sunday ordered immigration officials at Logan International Airport to let in all people with valid visas and lawful permanent residents of the U.S. and to notify airlines that those people can fly and won't be detained. That prompted lawyers challenging Trump's executive order to advise people to fly into the U.S. through Boston.
Google Chief Executive Officer Sundar Pichai slammed Trump's move in a note to employees Friday, telling them that more than 100 company staff had been affected by the order. Microsoft Corp. said it was in touch with 76 staffers from the seven countries identified in the executive order.
The ruling by U.S. District Judge Allison D. Burroughs in Boston was one of at least four issued by federal judges in the past two days blocking parts of Trump's executive order prohibiting entry by citizens of seven majority-Muslim nations for 90 days. Those originally from Iran, Iraq, Libya, Sudan, Somalia, Syria and Yemen would be banned from entering the U.S. for the period, while the government determines what information it needs to safely admit visitors.
Lawyers for immigrant groups said Sunday the order has been so irregularly enforced that some remain in detention while others have been freed. Even some permanent legal residents of the U.S., holding so-called green cards, were detained or denied entry. Green-card holders are now being allowed to travel back to the U.S., John Kelly, the secretary of the Department of Homeland Security, said in a statement Sunday.
Four Judges
Currently, only Burroughs's ruling affects people outside the U.S. trying to return. A judge in Brooklyn, New York, issued a decision ordering border officials nationwide to clear people already in the U.S. who have valid visas or green cards, regardless of their nation of origin. A judge in Alexandria, Virginia, followed with a similar order, restricted to those being detained at Washington Dulles International Airport. A Seattle, Washington, judge's ruling affected two people who filed a complaint over their detainment.
"We're trying to spread the word that anyone with a green card should fly to Boston so they won't be detained," Becca Heller, Director of the International Refugee Assistance Project, said on a call with reporters Sunday.
Even with the judges' orders in hand though, border officials weren't always abiding by them, immigration lawyers said.
'Non-Compliance'
"We are continuing to face Border Protection's non-compliance which is causing chaos around the country and around the world," Marielena Hincapie, Executive Director of the National Immigration Law Center, said in a call with reporters. "The last 48 hours have been full of chaos and the sense that the federal government has decided not to comply with the Constitution and not to provide guidance to people in the field and to immigrants."
In a statement posted on Facebook, Trump again blamed media, claiming reporting on the ban hasn't been truthful.
"This is not a Muslim ban, as the media is falsely reporting," Trump said, adding that 40 countries that have Muslim majorities aren't affected by the ban. "This is about terror and keeping our country safe."
Green-card holders won't be prevented from returning to the U.S., as long as they're not deemed a threat, Kelly said on Sunday.
"Absent the receipt of significant derogatory information indicating a serious threat to public safety and welfare, lawful permanent resident status will be a dispositive factor in our case-by-case determinations," Kelly said in the statement posted on the DHS website.
Ruling Hailed
The lawyers hailed Saturday's ruling by U.S. District Judge Ann Donnelly in Brooklyn, temporarily blocking the administration from removing from U.S. airports refugees, visa holders and legal U.S. residents. The lawyers said they hoped the case, which seeks class-action or group status, could eventually result in a determination that the ban is unconstitutional.
Peter Carr, a spokesman at the Department of Justice, declined to comment on the court rulings.
Lawyers for immigrants said scores of attorneys hoping to assist refugees and stranded passengers from the banned countries had gone to airports with signs in Arabic and Farsi offering their assistance. They estimated that petitions had been filed on behalf at least 100 immigrants and refugees since the ban was issued.
New York Attorney General Eric Schneiderman and 16 of his peers condemned the president's action in a statement as "unconstitutional, un-American and unlawful," and hailed the court rulings.
"We are confident that the executive order will ultimately be struck down by the courts," the New York Democrat said. Joining him in that statement were attorneys general from California, Illinois, Pennsylvania, Massachusetts, Virginia, Washington, the District of Columbia and elsewhere.
Before it's here, it's on the Bloomberg Terminal.
LEARN MORE