Hamon Wins French Socialist Primary as Party Old-Guard Rejected
By
Valls accepts defeat with 60 percent of ballots counted

Former Education Minister faces challenge to keep party united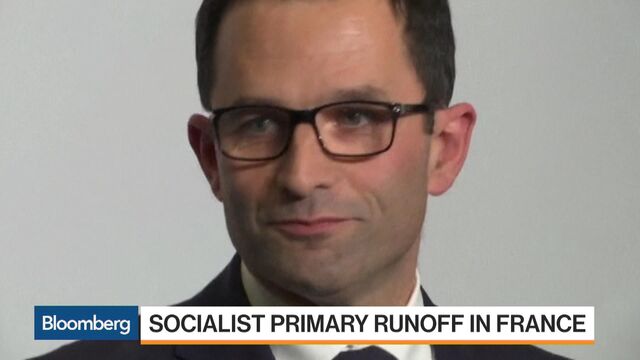 Benoit Hamon defeated former Prime Minister Manuel Valls to win the French Socialists' nomination and faces the challenge of reuniting a divided party that's given little chance of winning the presidential election this spring.
With 60 percent of voting stations reporting, Hamon had about 59 percent support to 41 percent for Valls, the party said Sunday. Valls conceded defeat in a televised statement.
Hamon, a 49-year-old former education minister, needs to lure back Socialists who have defected to communist-backed Jean-Luc Melenchon on the party's left and to independent Emmanuel Macron in the center. Polls suggest the Socialist candidate will finish a distant fifth in the first round of the presidential election on April 23, with nationalist Marine Le Pen and Francois Fillon from the center-right Republicans favorites to go through to the May 7 runoff.
Hamon's signature proposal was a basic income of 750 euros ($800) a month for all citizens, and throughout the primary campaign he fended off attacks that its cost was prohibitive. He won 36 percent of the vote in the primary's first round last Sunday with Valls second with 31.5 percent. Hamon then got the endorsement of third-placed Arnaud Montebourg, who took 19 percent.
Between 1.9 million and 2.1 million people voted in primary, according to an estimate by pollsters Elabe.
Before it's here, it's on the Bloomberg Terminal.
LEARN MORE