North Korea Restarts Yongbyon Plutonium Reactor, Institute Says
By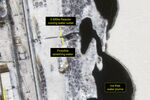 North Korea's 5 megawatt nuclear reactor at Yongbyon is showing a water plume, indicating that the plant is probably operating at the facility, a U.S. research institute said.
The facility, which had suspended operations in late 2015, is capable of producing enough plutonium to assemble one atomic bomb every year. Satellite pictures taken Jan. 22 show emissions from the cooling tower of the reactor, North Korea's main nuclear complex, the U.S.-Korea Institute at Johns Hopkins University's School of Advanced International Studies said on its 38 North website.
The water plume is "an indication that the reactor is very likely operating," the institute said. "Without being able to measure the water temperature rising or water flow from the reactor, it is impossible to estimate at what power level the reactor is running, although it may be considerable."
Signs of activity at the Yongbyon site, north of the capital Pyongyang, add urgency to efforts to stop North Korea from advancing its nuclear-weapons program. The country conducted its fifth nuclear test in September at the Punggye-ri test site, seeking to boost its nuclear capabilities even as the international community stepped up sanctions against the country. The restart comes amid rising concern that North Korea is preparing to test-launch an intercontinental ballistic missile. The U.S. secretary of defense and South Korea's defense minister are scheduled to hold their first meeting in Seoul on Feb. 2 to discuss the alliance and security.
The 38 North website reported on Jan. 18 that satellite imagery collected from the previous four months showed the continued presence of vehicles around the reactor, indicating either maintenance or preparations for renewed operations. Separately, the South Korea Defense Ministry's 2016 White Paper said that North Korea likely increased its stockpile of plutonium that can be used to produce nuclear weapons to 50 kilograms.