John Hurt, 'Elephant Man' Actor Who Played Oddballs, Dies at 77
By
Actor's agent confirms death, BBC reports on its website

Twice nominated for Oscars in career over more than 50 years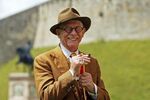 John Hurt, a versatile character actor who received Oscar nominations for his roles in "The Elephant Man" and "Midnight Express," has died after a battle with cancer. He was 77.
His agent confirmed the death, the BBC reported on its website. No further details were immediately known. The actor continued to work after announcing in 2015 that he had pancreatic cancer, and recently starred as Father Richard McSorley in "Jackie", the biopic of President John Kennedy's wife, the BBC said.
In a career that spanned more than 50 years, the British-born actor played varied parts that won him critical acclaim. He was a cuckolded church organist in "The Shout" (1978), an osteopath mixed up in parliamentary sex shenanigans in "Scandal" (1989), the Ministry of Truth clerk Winston Smith in the film adaption of George Orwell's "Nineteen Eighty-Four" (1984), and Garrick Ollivander, a wand-shop proprietor in Harry Potter movies.
"Roles just come to me from other people, and I've long since given up thinking, 'Oh really? Why me?"' Hurt said in a 2012 interview with the British Academy of Film and Television Arts. "I don't think actors are very good at choosing their own stuff. If we were allowed to do what we thought we were best at, it'd be pretty dreary."
Hurt became famous in the 1970s in a series of unconventional roles. In the U.K. television production of "The Naked Civil Servant" (1975), he was the self-described "effeminate queen" Quentin Crisp. In the BBC-TV production of "I, Claudius" (1976), he played the insane and murderous Roman emperor Caligula. The New York Times called his performance "daring and memorable."
Golden Globe
"Midnight Express" (1978) garnered Hurt a Golden Globe and his first Academy Award nomination as Max, a British drug addict inside a Turkish prison, in one of many wastrel roles.
In Ridley Scott's "Alien" (1979), he played the astronaut Kane, who becomes host to an alien monster that announces itself by bursting out through his chest. The scene caused mayhem in theaters, and Hurt said 30 years later that half of the people asking for his autograph still brought along stills from the film.
Among Hurt's assets were his hangdog eyes and drawn, world-weary face. They barely appeared in "The Elephant Man" (1980), for which he required hours of makeup each day to portray a hideously disfigured character, John Merrick. Starring opposite Anthony Hopkins, as his physician, Hurt received an Oscar nomination for best actor.
"John Hurt is simply the greatest actor in the world," said David Lynch, the film's director, according to a 1990 article in the New York Times.
Clergyman Father
John Vincent Hurt was born Jan. 22, 1940, in Chesterfield, England, according to Marquis Who's Who. His father, Arnould Herbert Hurt, was an Anglican clergyman, and his mother, the former Phyllis Massey, was an engineer.
Hurt attended St. Michael's Preparatory School in Otford, Kent. He was attracted to acting from childhood, but his parents disapproved and he ended up in art school. At 20, he auditioned and received a scholarship for Britain's Royal Academy of Dramatic Art.
In the 1960s, Hurt was one of a rising cohort, including Peter O'Toole and Oliver Reed, known as much for their carousing as for their stage and screen roles. He got his first break while performing on a London stage in "Little Malcolm" in 1965. There, he was noticed by director Fred Zinnemann, who gave him the part of Richard Rich in the film "A Man for All Seasons" the following year, according to a BBC profile.
Little Research
In preparing for roles, Hurt had little use for research or "the method," techniques popular among his U.S. counterparts.
"When I say that acting is just a rather more sophisticated way of playing cowboys and Indians, it's my way of trying to quash all the pretentious crap that's said about acting," Hurt said, according to the New York Times article. "What I mean is, if you pretend well enough, the audience will believe you. By the way, I was always an Indian."
In 2012, Hurt received Bafta's Outstanding British Contribution to Cinema Award to mark his 50-year career. He won three other Bafta awards. He was knighted by the Queen in 2015 for services to drama.
The following year, he appeared as the War Doctor in the 50th-anniversary special of the BBC's science-fiction TV series "Doctor Who."
Hurt's marriages to Annette Robertson, Donna Peacock and Joan Dalton ended in divorce. With Dalton he had two sons, Alexander and Nicholas. In 2005, he married Anwen Rees-Meyers, a former actress and pianist 25 years his junior.
Before it's here, it's on the Bloomberg Terminal.
LEARN MORE