A Guide to the Fillon Probe Shaking Up the French Election
By and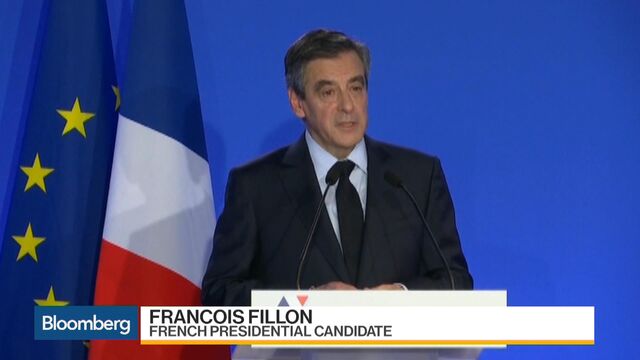 Republican French presidential candidate Francois Fillon has been charged with the misuse of public funds after revelations that he'd paid his wife and two of his children to work as legislative aides, though little real work may have been done for the money. Fillon says the practice was perfectly legal and that the investigation is part of a plot by political opponents to damage his candidacy. Fillon has vowed to stay in the race. Yet even before the formal charges were announced, the headlines had taken their toll: He's fallen to third place in the polls.
1. What's Fillon's explanation?
Fillon said his wife, Penelope, worked closely with him for 15 years to represent him in his local constituency while he was at the National Assembly in Paris. She did essential tasks like running his agenda, opening mail, representing him at local events and helping write his speeches. He said her salary averaged out to a net 3,677 euros ($3,935) a month, which is above average in France but which he said is justified for someone with her law degree. As to why his wife didn't have her own email address for work, Fillon said she used his office's general email address -- an unusual arrangement, according to parliamentary aides interviewed in French media.
2. Is it common for French politicians to hire their spouses?
It is -- the Fillon team's first response was to note that it's done by lawmakers across the political spectrum. But the public may not be prepared to tolerate it anymore. Socialist candidates Manuel Valls and Benoit Hamon both called for the practice to be banned in their primary debate in January, days before Hamon won the Socialist nomination.
3. How are prosecutors involved?
Fillon was questioned by investigative judge as part of a probe and was then charged. Investigative judges can charge people when there is "serious and consistent" evidence showing likely involvement in a matter under investigation. This doesn't mean he's automatically facing a trial. In French legal proceedings, a judge decides whether to send a case to trial or dismiss it after the criminal probe is complete, which could take months. Along with the charge of misusing public funds, Fillon has also been charged with complicity in the misuse of company assets and failure to comply with the transparency requirement for public officials, according to prosecutors.
4. How is Fillon's campaign holding up?
Right after the revelations first surfaced, voter surveys showed he fell behind National Front leader Marine Le Pen and independent candidate Emmanuel Macron, meaning he wouldn't make the May 7 run-off. By mid-March, he was still in third place. After calls for him to drop out of the race, he held an hour-long press conference on Feb. 6, in which he apologized and said he understood that hiring relatives was no longer acceptable to voters. But most of his time was spent claiming he'd been the subject of unprecedented political attacks, and he vowed to resume campaigning with new vigor. He suffered a double blow on March 1, when Bruno Le Maire, his former agriculture minister and his foreign policy adviser since December, quit the campaign and the Union of Independent Democrats, an ally of the Republicans, suspended its support. Things looked brighter March 10 when he won the endorsement of the former prime minister, Alain Juppe, the man many in the Republican party has wanted to replace him. Then the formal charges were filed March 14.
5. Has Fillon answered everything?
Not really. On multiple occasions, he's declined to delve deeply into another charge -- that his wife was also on the payroll of a French political opinion magazine. And the newspaper that first reported the matter had published new revelations about how much Fillon's family earned -- more than 1 million euros -- and severance payments Penelope received from the National Assembly.
6. Could Fillon still be forced out of the race?
It's too late for that now. The Republicans and their candidate passed the point of no return in early March when party rebels abandoned their push to have Fillon replaced. Election officials will be publishing the final list of candidates around March 20 and Fillon's name is going to be on it. 
The Reference Shelf
— With assistance by Mark Deen
Before it's here, it's on the Bloomberg Terminal.
LEARN MORE