Britain's May Refuses to Criticize Trump's Order Closing Border
By
Premier says U.S. 'responsible' for U.S. refugee policies

Ex-Labour leader Miliband says Trump plan 'cannot stand'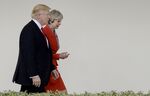 U.K. Prime Minister Theresa May declined to criticize Donald Trump's decision to shut U.S. borders to refugees from seven mostly Muslim nations, a day after meeting him in the hope of securing a bilateral trade agreement.
"The U.S. is responsible for the U.S. policy on refugees," May told reporters Saturday at a news conference in Ankara, the Turkish capital, after ignoring the question three times.
Her reluctance to publicly disagree with Trump reflects her strategy of building close ties with the new president. But it risks criticism at home, where 5 percent of the population is Muslim.
Trump on Friday indefinitely banned the entry of people fleeing Syria, temporarily froze the entry of other refugees and prohibited entry by people from majority-Muslim nations for 90 days. The order, covering citizens of Syria, Iraq, Iran, Sudan, Somalia, Yemen and Libya, is needed, Trump said, to prevent terrorists from entering the U.S.
While appearing with Turkish Prime Minister Binali Yildirim in Ankara, May said in answer to a question that the U.K. had a "good record" on helping refugees, especially from war-torn Syria.
Former opposition Labour Party leader Ed Miliband, in a tweet on Saturday, denounced May's response to the Trump action.
"PM's refusal to condemn Trump Muslim ban is shocking, wrong and cannot stand," Miliband said. "It flies in the face of the values of people across Britain."
Before it's here, it's on the Bloomberg Terminal.
LEARN MORE