Tweaking Chat Trips Up Ex-Jefferies Bond Trader Jesse Litvak
By , , and
Jury finds dealer guilty of one of 10 counts of fraud

He altered electronic message to influence counterparty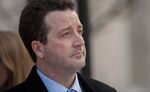 In July 2010, Jesse Litvak, then a managing director at Jefferies LLC, was working hard to sell a mortgage bond.
During negotiations, Litvak altered an electronic chat to make it appear he had paid more for the bond than he did, then forwarded it to a trader at Invesco Ltd. to whom he was trying to sell the security, prosecutors said. That act got the 42-year-old convicted Friday for a second time of securities fraud. 
He was cleared of nine of 10 counts in federal court in New Haven, Connecticut, but he faces a prison term and is unlikely to return to Wall Street. While bond trading takes place between sophisticated players on relatively equal footing trying to get the best of each other, the jury signaled that Litvak crossed the line when he falsified a chat to use to his advantage.
The case has been closely watched by bond traders, especially those involved in other criminal cases. Two former Royal Bank of Scotland Group Plc employees have admitted guilt to similar charges, while three former Nomura Holdings Inc. dealers are scheduled to go on trial later this year. A former Cantor Fitzgerald & Co. mortgage-bond trader, David Demos, was indicted last month on fraud charges for allegedly lying to customers. Calls to their lawyers weren't returned.
Game Changer
Altering a document was the smoking gun that proved different from "trade talk," according to Michael C. Keats, a partner at Stroock & Stroock & Lavan LLP in New York, who wasn't involved in the case.
"That was really one of the uglier allegations," Keats said, adding that the prosecution could have more narrowly focused the case . "That's why they go in with multiple counts, so one of them will stick."
Litvak's lawyers will likely ask the judge to throw out the single conviction, arguing that because the jury didn't find him guilty of the false sales talk, it shouldn't have convicted him on similar statements in writing, said Matthew L. Schwartz, a partner at Boies Schiller Flexner LLP in New York, who wasn't involved in the case.
"It seems that the jury was not buying the prosecution theory that puffery and salesmanship in the secondary bond market is criminal," Schwartz said.
Previous Reversal
Litvak's first conviction in 2014, in which he was found guilty on all 15 counts, was reversed on appeal in December 2015. The appeals court ruled Litvak should have been allowed to present expert witnesses to bolster his defense.
At the retrial, Litvak's attorney offered one expert witness to explain that bond traders are sophisticated market professionals backed by substantial research capabilities and are likely to be skeptical about statements made about pricing during negotiations. That may have contributed to the acquittal on nine counts for Litvak, who now lives in Boca Raton, Florida.
He's scheduled to be sentenced April 21 and faces a maximum term of 20 years in prison, although he's likely to get a much less severe sentence.
The jury appeared to reject claims of wrongdoing made by Michael Canter, head of the securitized-asset group at AllianceBernstein Holding LP and a former customer of Litvak's, whose electronic chats with the defendant were displayed by prosecutors. 
Market Practices
In those chats, Litvak lied repeatedly about how much he was paying for millions of dollars of bonds before selling them to Canter's firm. He even used elaborate ploys to suggest he'd had to fight to buy bonds that Jefferies already owned.
"There is a god," Litvak said in one chat, after telling Canter he'd found a seller for bonds at a price Canter sought, which had supposedly been rejected by a different seller. "You are working hard," Canter told him in the chat.
The jury appeared to differentiate between lies about prices that defense lawyers demonstrated were practically a standard industry practice, and actually altering communications to bolster a falsehood, as with the Invesco charge. Litvak edited a chat transcript to show he paid 79 26/32 for the bond, rather than 79 24/32 in the original, according to court documents.
"We are confident these prosecutions have acted as a forceful disincentive to market participants tempted to commit securities fraud," Deirdre Daly, the U.S. Attorney for Connecticut, said in a statement.
Jeaneen Terrio, an Invesco spokeswoman, didn't immediately respond to a voicemail seeking comment.
Both Ways
The defense forced Canter to admit during cross-examination that he sometimes put false price data into the market for his own purposes, such as to make a bid for a bond appear higher.
Defense attorney Dane Butswinkas told jurors that the government "was not even close" to proving beyond a reasonable doubt that Litvak's lies had significantly altered the total mix of information customers used to decide on bond transactions.
Phillip R. Burnaman II, who managed a $500 million portfolio at ING Bank, testified for the defense that it's common for bond traders to lower bids in an effort to get a better price.
"It's a bit like playing poker and bluffing," said Burnaman, who is now chief risk officer with hedge fund Dendera Capital LP.
Keats and Schwartz, the New York lawyers, said they expect the government to go forward with the related bond-trading cases. Prosecutors will likely have less leverage in possible plea discussions, Keats said.
"The government is going to have to retool for the next round of trials," Schwartz said.
The case is U.S. v. Litvak, 13-cr-00019, U.S. District Court, District of Connecticut (New Haven).
— With assistance by Robert Gearty, and John Dillon
Before it's here, it's on the Bloomberg Terminal.
LEARN MORE