Nikki Haley Vows to 'Take Names' of Nations Opposing U.S.
By
Nikki Haley says she'll look at the UN with 'fresh eyes'

U.S. may be weighing cuts to UN and other global bodies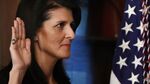 President Donald Trump's UN ambassador started her first day saying she's prepared to "take names" of countries that oppose the U.S., as the new administration in the White House starts its overhaul of foreign policy.
The U.S. will "have the backs of our allies and make sure that our allies have our back as well," Ambassador Nikki Haley told reporters at the United Nations on Friday. "For those that don't have our back, we're taking names. We will make points to respond to that accordingly."
Haley, the former governor of South Carolina, vowed to look at the UN with "fresh eyes" and to improve the global body, which has come under fire from Trump and Congress after the Security Council in December passed a resolution criticizing Israel's settlements policy. The resolution, which the Obama administration allowed to pass by abstaining, has prompted the Trump administration to weigh cuts in U.S. funding to the UN and other organizations.
The U.S., through the State Department and other agencies, provides about $8 billion a year in contributions to the UN, or about a fifth of the world body's total budget of $40 billion.
"Everything that is not working, we're going to try and fix, and anything that seems to be obsolete and not necessary, we are going to do away with," Haley, 45, said before she presented her credentials to UN Secretary-General Antonio Guterres.
Before it's here, it's on the Bloomberg Terminal.
LEARN MORE