Trump Gives Dealmakers 'All-Clear Signal' for M&A, Bok Says
By
Bok cites Tesco's Booker deal as significant signal in U.K.

Markets are 'discounting the negative stuff,' he says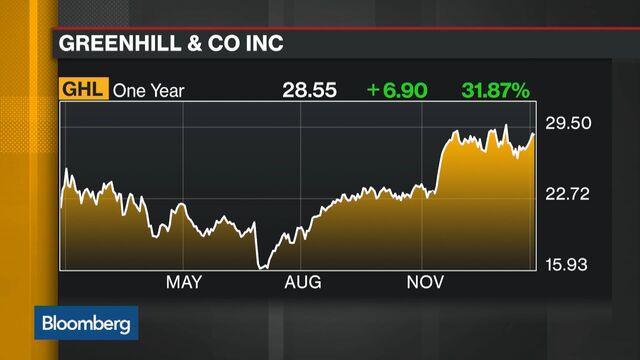 Greenhill & Co. Chief Executive Officer Scott Bok said that clients pondering mergers and acquisitions are looking beyond political uncertainty in the U.S. and U.K. and focusing on President Donald Trump's commitment to economic growth.
"You could say, 'Wait, let's see what the tax rate is, and let's see what happens with trade deals," Bok said Friday in an interview on Bloomberg Television. But, "I think what's well understood is we have a very pro-business government in Washington now, and I think that's the all-clear signal for companies to do deals."
Greenhill jumped 65 cents to $29.20 at 11:34 a.m. in New York trading, extending the advance to 27 percent since Election Day. Fourth-quarter profit tripled, the firm said late Thursday. And the New York-based bank was one of the advisers on grocer Tesco Plc's deal Friday to buy British food wholesaler Booker Group Plc for about $4.6 billion.
"The Tesco deal is significant," Bok said. "Even amidst all the questions about Brexit and how it's going to play out, here's a company doing an important strategic transaction."
While Prime Minister Theresa May is planning to leave the European Union, the EU will work to ensure that the U.K. won't be in a better position after Brexit, the European Parliament's negotiator said this week. Trump has left Wall Street uncertain about specifics on government spending, and his spokesman said Thursday that the administration is considering a 20 percent tax on imports from Mexico.
'Positive Signal'
Rising stock prices show that "clearly markets are discounting the negative stuff like trade wars, and counting on the positive stuff," Bok said. Higher equity values could make it more attractive for buyers to use stock to fund takeovers.
Joshua Wright, a former trade commissioner with hands-off views on competition, is a candidate for a top antitrust post, according to people familiar with the matter. Trump's cabinet picks include Treasury Secretary nominee Steven Mnuchin, a former Goldman Sachs Group Inc. banker, and former Exxon Mobil Corp. CEO Rex Tillerson as secretary of state.
"With Trump, I know there's a lot of uncertainty, I know people don't like the rhetoric," Bok said. "I think clearly there's a positive signal there, you look at the cabinet around him, there's a lot of business people."
Fourth-quarter profit was $23.7 million, or 74 cents a share, compared with $7.89 million, or 25 cents, a year earlier. That exceeded by 10 cents the average estimate of analysts surveyed by Bloomberg.
"While the beat relative to our estimate was primarily driven by a lower-than-expected tax rate, higher-than-expected advisory revenues and lower-than-expected expenses also contributed," Jeffery Harte, an analyst at Sandler O'Neill & Partners, said in a note to investors.
Before it's here, it's on the Bloomberg Terminal.
LEARN MORE