Tesco's Booker Deal Shows How Supermarkets Must Evolve
By
U.K. retail sector grappling with discounters, online rivalry

Grocer will have 'smart first-mover advantage,' analyst says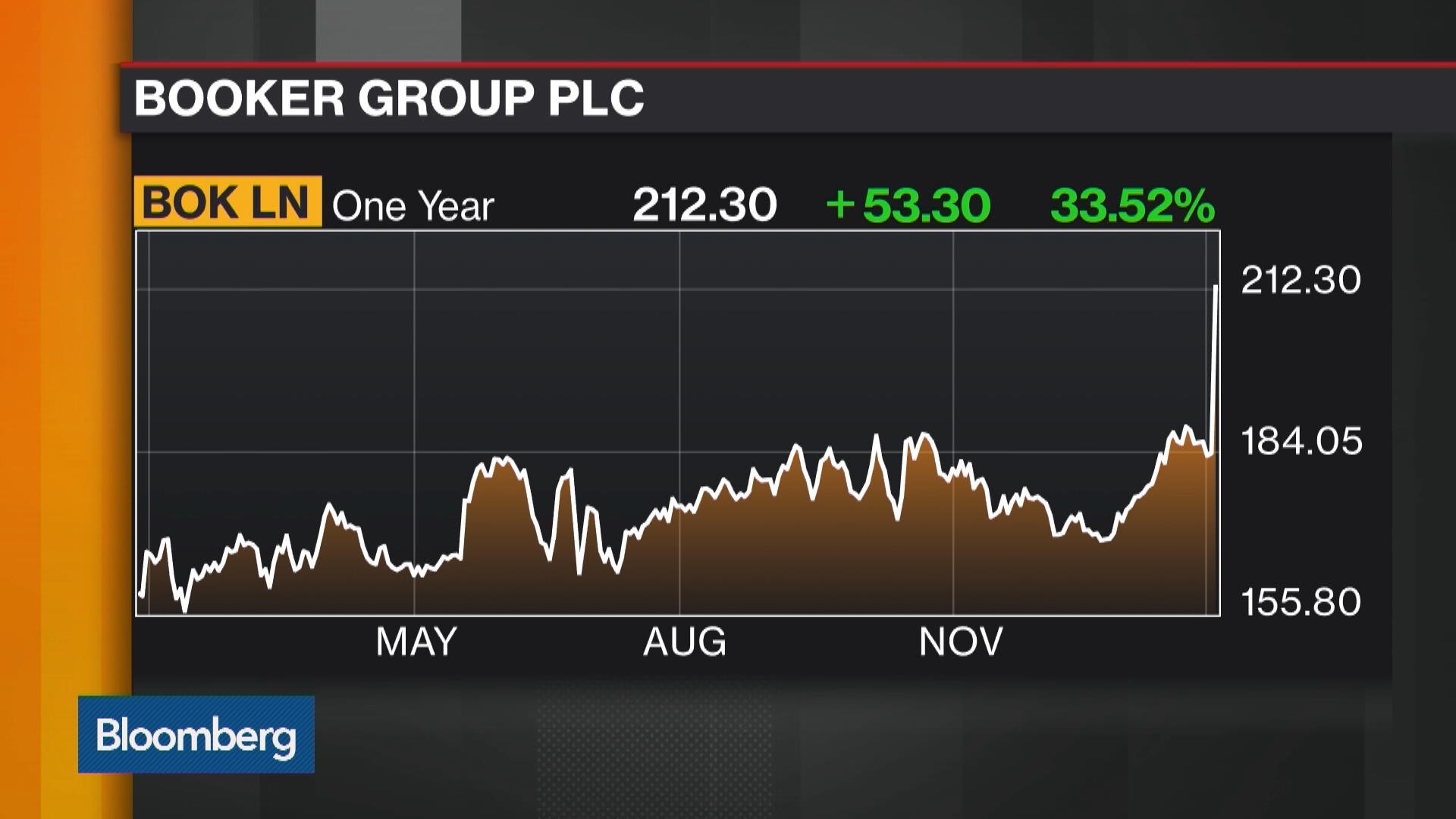 Tesco Plc's 3.7 billion-pound ($4.6 billion) plan to buy Booker Group Plc shows how Britain's supermarkets must adapt to survive in a grocery industry that has changed beyond recall.
With traditional, one-size-fits-all store models under pressure from discounters and online competition, Tesco wants to become the country's undisputed food champion. In restaurant supplier Booker, it adds the growing market for dining out to its supermarket leadership, while enabling it to double down on convenience stores and offer online-order collection from 8,000 locations.
"Tesco will have smart first-mover advantage in tying up the food supply chain in the brave new world of online shopping," said Neil Shah, director of research at Edison Group.
Buying Booker means Tesco will have leading positions in the fastest-growing areas of the food retailing business. That's important in a market where Aldi and Lidl's low prices and Amazon.com's increasing footprint have caused irreversible disruption. Tesco rival J Sainsbury Plc took a different course last year, buying the Argos chain for 1.2 billion pounds to make it dominant in non-food retailing.
The Booker offer and the Argos takeover illustrate the huge pressure being applied to traditional grocery-store operators, according to Louise Cooper, an analyst at CooperCity.
Lower Prices?
"Both deals show the continuing difficulties of the food retail business," Cooper said. "Tesco is the number-one player which gives it a competitive advantage already and now the Booker deal makes it even stronger."
Not all of the grocer's followers are fans of the takeover. At a time when Tesco Chief Executive Officer Dave Lewis still has to fix the U.K. stores, cement online profitability and reduce debt, the merits of taking on the integration of Booker are debatable, said Clive Black, an analyst at Shore Capital.
Richard Cousins, CEO of food-service company Compass Group Plc, resigned from his position as Tesco's senior non-executive director this month in protest over the retailer's plan to buy Booker.
"This is the wrong strategy at the wrong time," he said in an interview Friday. "Tesco has too much capacity in the mid- to large-supermarket format. This won't address that issue."
Tesco rivals like Wm Morrison Supermarkets Plc and Wal-Mart Stores Inc.'s Asda chain may dislike the deal even more, provided it gets past U.K. antitrust regulators. Booker will give Tesco an "unassailable position in the U.K. food business," said John Ibbotson, an analyst at consultant Retail Vision, with its "dominance stretching further throughout the British food industry."
The stock market's reaction suggests that investors are happy with the direction chosen by Lewis. The shares rose 9.3 percent in London, also helped by the retailer's commitment to restoring dividend payments.
Buying Power
The increased buying power that Tesco gains from the takeover will enable it to cut prices still further in its battle with the discounters, according to Jon Copestake, an analyst at Economist Intelligence Unit. The timing is likely to be significant as the pound's Brexit-induced slide looks set to put an end to two years of falling food prices in the U.K.
"Tesco has the potential to access the large eating-out market that Booker already operates in," said Simon Murphy, manager at Old Mutual U.K. Equity Fund, adding that the deal "accelerates growth at both companies."
— With assistance by David Hellier, Lukanyo Mnyanda, and Sam Chambers
Before it's here, it's on the Bloomberg Terminal.
LEARN MORE