Spain Proves Most Popular for Britons Living in Other EU Nations
By
U.K. plans to begin talks on leaving bloc by end of March

Theresa May hopes to settle residency rights at an early stage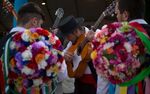 Almost 900,000 British citizens are long-term residents of other European Union countries, with Spain the most popular location.
The data from the Office for National Statistics Friday comes as Britain prepares to trigger formal talks to exit the bloc, with migration among the contentious issues that will have to be negotiated. The agreement could have implications for the rights of EU citizens living in the U.K., and vice versa.

The report shows almost 309,000 U.K. citizens were living in Spain in 2011, almost twice as many as the next most popular country, France, which has 157,000. Ireland and Germany are home to 113,00 and 96,000, respectively, followed by the Netherlands and Belgium.
The data is based on the 2011 census, though Jay Lindop, ONS deputy director for population, said research suggests there hasn't been much change since then. The figures differ from some estimates because they focus on citizenship rather than the country of birth, Lindop said.
Prime Minister Theresa May reiterated this week that she wants to settle the issue of residency rights at an early stage in the Brexit negotiations. The status of EU nationals living in the U.K. has raised particular concerns among businesses that rely heavily on foreign talent. May has refused to guarantee they can remain unless reciprocal rights are granted to Britons living elsewhere in the bloc.
Before it's here, it's on the Bloomberg Terminal.
LEARN MORE