Pence Tells Anti-Abortion March That 'Life Is Winning Again'
By
Vice president is most senior figure to appear at annual march

Demonstration comes days after big women's march in Washington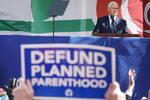 Mike Pence became the first sitting vice president to address an annual anti-abortion march in Washington Friday, telling demonstrators that their movement would gain new ground under President Donald Trump.
Pence told a crowd of thousands that "life is winning again," pointing to the Republican majority in Congress and the election of "a president who I proudly say stands for the right to life." He also pointed to the executive action the president took this week cutting off funding to international family planning groups that promote or pay for abortions.
The vice president's appearance at the March for Life comes as Trump prepares to announce its pick next week for the seat on the Supreme Court left vacant since Justice Antonin Scalia died last year. Pence said that the president's pick would be someone who upholds the values of the anti-abortion movement.
Earlier this week, the House voted to bar any federal subsidies from being used to pay for insurance plans that provide abortion services, a measure aimed at making sure that any replacement for Obamacare would face the same restriction.
In his speech, Pence thanked the demonstrators on behalf of himself and the president, and emphasized that the movement should be one of compassion that meets women "with generosity, not judgment."
Trump also voiced his support, tweeting Friday, "The #MarchForLife is so important. To all of you marching - you have my full support!"
'Decisive Actions'
Kellyanne Conway, a senior Trump adviser, addressed the crowd ahead of Pence, saying that now is "a time of incredible promise" for the anti-abortion movement and promising that "decisive actions" from the new administration would further their cause.
"Steps away from here a president and a vice president sit at their desks and make decisions for the nation," Conway said. "As they sit there, they stand here with you."
A number of Republican lawmakers also participated in the demonstration, including Senator Joni Ernst of Iowa and Representative Mia Love of Utah. 
Ernst said that she plans to re-introduce a bill that would redirect funding that now goes to Planned Parenthood to other women's health organizations. Ernst said that while an earlier version of the bill was vetoed by President Barack Obama, "Today is a different story because today as you heard from Vice President Pence, we have a pro-life president."
Friday's march follows days after a much larger protest after Trump's inauguration when several hundred thousand demonstrators gathered for the Women's March on Washington, where many of the speeches centered on calls to defend abortion rights.
Before it's here, it's on the Bloomberg Terminal.
LEARN MORE