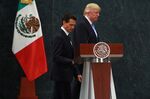 Here's a hard-to-imagine path given the deepening quarrel between U.S. President Donald Trump and his Mexican counterpart Enrique Pena Nieto: The U.S. embraces larger trade deficits with Mexico and the countries cooperate to boost exports to the rest of the world.
That's a view laid out by Bank of America Corp.'s chief Mexico and Canada economist Carlos Capistran, who points out that 90 percent of the U.S. trade deficit lies outside North America. Bringing together more resources from Mexico and Canada within the Nafta free-trade zone could help make everyone more competitive and narrow that gap, he wrote in a report.
China has played a greater role boosting the U.S. trade deficit than Mexico over time, even without a free-trade agreement. From 1993 to 2015, the gap with China grew by $361 billion versus Mexico's $60 billion. Mexico also buys about twice as much from the U.S. as China does. 



Deterring imports to narrow the trade gap isn't the only way to go. Growing exports could work as well, and have the added benefit of being more "sustainable" by helping to create larger and more innovative companies, Capistran said. The Trump administration has floated a 20 percent tax on imports from Mexico to pay for building a wall along the southern U.S. border.

"Improving allocation of resources implies the U.S. will have to use more unskilled labor in Mexico, but also that it will have to export more energy to Mexico to complement labor, increasing gross trade flows within Nafta," he said. "Hence the U.S. may have to increase its trade deficit with Mexico and Canada to reduce its overall trade deficit," he added.
Of course, in a week where Pena Nieto canceled a planned trip to Washington to discuss his own country's trading terms amid growing tensions, Capistran says, "we don't seem to be headed in that direction.''
Before it's here, it's on the Bloomberg Terminal.
LEARN MORE