Ghost of 1990s Is Haunting Dollar and Slowing Further Gains
By and
Clinton years saw action against Japan hit appetite for dollar

Investors waiting to see if Trump team will jawbone greenback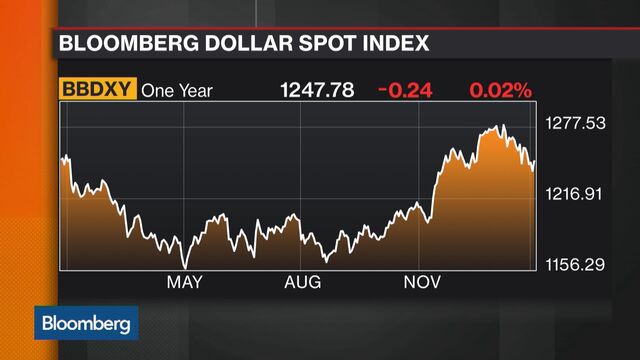 Call it the ghost of U.S. administration past.
A new dynamic entered the $5.1 trillion currency market in recent days, as the dollar failed to keep pace with a rise in U.S. Treasury yields.
One reason: traders are increasingly aware of the example of the period in the Clinton administration when a widening yield advantage didn't work in the dollar's favor, says Shusuke Yamada, chief Japan currency and equity strategist at Bank of America Merrill Lynch in Tokyo.
The underlying concern is that President Donald Trump's protectionist moves will be accompanied by a preference for a weaker dollar, hurting foreigners' desire for American assets. That's essentially what happened in the early years of President Bill Clinton's administration, when U.S. officials took aggressive moves against Japan on trade and the then-Treasury secretary expressed a desire for a stronger yen.
A veteran Bank of Japan trader anticipated this parallel -- read about that here.
"It's been shared among market participants that there was a time when we saw dollar-yen falling while the rates differential widened," Yamada said in an interview Friday. "It's difficult for them to buy dollar-yen when there is a very unpredictable president."

Further repressing the dollar has been lingering concern that, with Japan's disinflationary pressures starting to ease, the Bank of Japan will consider tapering its mega stimulus, Yamada says. He anticipates such worries will be removed on Tuesday, when Governor Haruhiko Kuroda has the opportunity to make clear his commitment to easing after a policy board meeting.
The dollar jumped above 115 yen Friday morning in Tokyo for the first time in a week after the BOJ boosted the size of a regular bond-buying operation -- a move inconsistent with any tapering plan.
As for the Trump administration, traders may need to get some reassurance that the new team isn't going to talk down the dollar. Treasury-secretary nominee Steven Mnuchin, in oral and written responses to senators, has made clear he views "long-term" currency strength as important, though an "excessively strong dollar" can sometimes have negative implications for the U.S. economy.
"It's a very subtle balance that they are taking," which has made things complicated for investors, said Yamada. "The clear implication is high volatility."

Yamada doesn't expect a change in currency policy or any kind of currency accord any time soon, because of the potential to undermine demand for U.S. debt.
"Would Japanese investors buy U.S. Treasuries if the U.S. government will talk down the dollar forever?" he asked. "Probably not."
Yamada proved prescient in flipping his stance on dollar-yen from bearish to bullish in September, as he observed a shift in investor positioning and as Bank of America Merrill Lynch analysts concluded the market was underpricing the chance of either a Republican or Democratic sweep in November's U.S. election.
He now sees the dollar having room to climb to 120 yen by spring, with the potential for an overshoot to as high as 130. At such a level, though, he would expect policy makers on both sides of the Pacific Ocean to become concerned about the risks to their economies. It's a dynamic that Yamada's bank has dubbed the "Icarus trade."
"The Japanese administration is probably hoping it will fly, but not too close to the sun," Yamada said of dollar-yen. "The higher it flies, the higher the risks that it gets knocked off by the U.S. administration."