Feng Shui Masters Say Bet on Casinos, Property in Year of the Rooster
By
CLSA's annual feng shui index touts retail shares mid-year

Last Rooster year saw middling gains for Hong Kong equities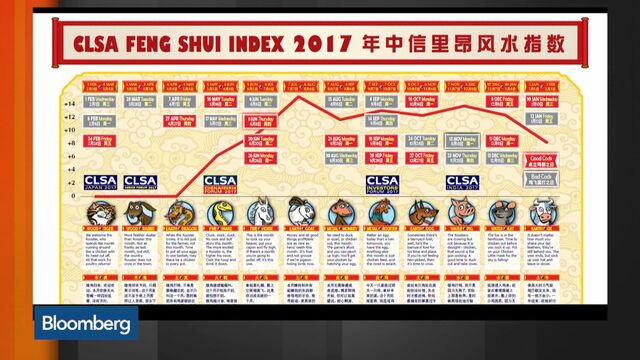 As the Year of the Rooster dawns, casino shares may be your best bet in Hong Kong - if you believe feng shui masters have more vision than analysts.
Gambling and transport stocks will kick off the new lunar year on a stellar note, according to CLSA Ltd., an offshore unit of Citic Securities Co. which issues a tongue-in-cheek report each year featuring market forecasts based on the ancient Chinese system governing flows of energy.
So, if you don't mind a little chi with your charts, take note.
As the water force gives way to fire mid-year, the focus shifts to retail and health-care equities, CLSA's feng shui masters say, while resource stocks, property shares and renewable energy companies come into their own in the third quarter as the baton is passed to earth. Gambling stocks regain their mojo at the end of the Rooster's reign.
Not convinced? It's fair to say the shifus -- who include 'Wicked Witch of the East'/ CLSA Senior Investment Analyst Cherry Ma -- have a pretty mixed track record.
Last year, they said the Monkey would usher in a boom for automotive stocks and banks and advised investors to steer clear of oil and technology companies from November. Hang Seng Index financial equities slid to a more than four-year low in February 2016, but avoiding Tencent Holdings Ltd. would have meant you had a little extra to put in this year's red envelopes. Hong Kong-listed shares of China's biggest Internet company ended 2016 with a three-month, 11 percent selloff.
Meek Monkey
Hong Kong stocks could use some excitement after they defied the playfulness that is associated with the Year of the Monkey, rising just 0.4 percent in 2016, the smallest annual gain ever. If history is any guide, though, the Rooster won't fare much better. The last time the rooster came around, in 2005, the Hang Seng gained 4.5 percent in what was then the tiniest advance on record.
Investors hoping for a calm return after a week of feasting and fireworks probably shouldn't count their chickens, though. The rooster will spend February "running around like a chicken with its head cut off" according to CLSA's masters, and all for, ahem, "poultry returns."
Kung Hei Fat Choi!
Before it's here, it's on the Bloomberg Terminal.
LEARN MORE