Buffett Says Immigrants a Blessing as Students Ask About Trump
by and
U.S. has unlocked immigrants' potential, Buffett says

Trump signed directives to tighten U.S. immigration policy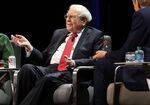 Warren Buffett made it clear he's not in President Donald Trump's camp when it comes to immigration.
"This country has been blessed by immigrants," he told a crowd of students at Columbia University on Friday in New York. "You can take them from any country you want, and they've come here and they found something that unleashed the potential that the place that they left did not, and we're the product of it."

That answer came in response to a student's question about how Buffett and Microsoft Corp. co-founder Bill Gates, who also appeared at the event, would advise the new administration on immigration and health-care policy.
"I always say to people who are anti-immigration, let's put it in retroactively. Everybody leaves," Buffett said, eliciting laughter from the crowd.
Trump has moved quickly to fulfill campaign pledges to voters who feel the country is being overwhelmed by immigrants taking American jobs. This week, he signed directives that would set in motion construction of a border wall with Mexico and toughen immigration enforcement within the U.S. The president also signed an executive action Friday to establish vetting procedures for some people seeking to enter the U.S., saying the measure would prevent terrorists from being admitted.
Read more: Gates Says Millions of Lives at Stake
Buffett, the 86-year-old chief executive officer of Berkshire Hathaway Inc., backed Hillary Clinton in the presidential election, stumping for her in Omaha, Nebraska, and headlining fundraisers. The billionaire frequently clashed with Trump and scolded him for not releasing income-tax returns, as major party presidential candidates have done for roughly four decades.
Since the election, Buffett has generally struck a more conciliatory tone toward Trump and called for unity. In an interview with CNN in November, he said that people could disagree with the president-elect, but ultimately he "deserves everybody's respect."
On Friday, Buffett didn't refer to the president by name in tackling the question on immigration. But he did mention two immigrants who had altered the course of U.S. history: Albert Einstein and Leo Szilard.
In 1939, the European-born physicists wrote a letter to President Franklin Roosevelt, warning about the potential for Germany to develop an atomic bomb. The document led to the Manhattan Project, a government-funded research effort that helped the U.S. create nuclear weapons and end World War II.
"If it hadn't been for those two immigrants," Buffett said, "who knows whether we'd be sitting in this room."
Before it's here, it's on the Bloomberg Terminal.
LEARN MORE