Brexit Bulletin: When Theresa Met Donald
May says "opposites attract" as she prepares to meet Trump.
By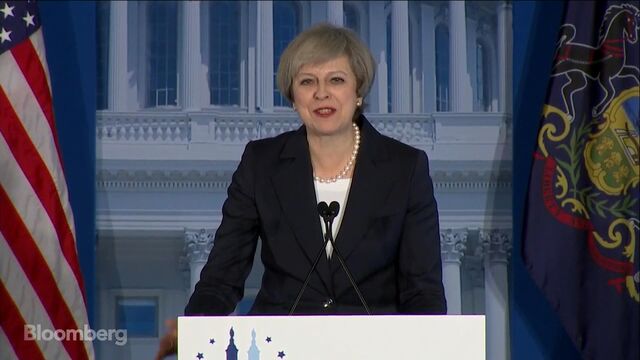 Sign up to receive the Brexit Bulletin in your inbox, and follow @Brexit on Twitter.
One is the daughter of a pastor, who first won election to national politics two decades ago and spent six years overseeing her country's security before getting the top job. The other is a billionaire property magnate-turned-beauty pageant organizer-turned-reality television star, who first entered elected office last week.

Yet as U.K. Prime Minister Theresa May prepared to meet U.S. President Donald Trump in Washington for the first time on Friday she was upbeat about the prospects of success. "Haven't you ever noticed?" she told reporters. "Sometimes opposites attract."
While some countries seek to distance themselves from Trump, May is going all-out for the closest possible relationship, says Bloomberg's Rob Hutton, who is traveling with her. She said she believed she could work with her opposite number, even as she signaled a willingness to confront him on issues where they disagree, including the use of torture.
Ultimately May is hoping to capitalize on the bond as Britain prepares to negotiate Brexit.
"We're both very clear that we want a trade deal," she said. 
As for how her charm offensive will go down with the European Union, regional finance ministers meeting in Brussels said they were untroubled, easing concern the trip could harm the U.K. in the Brexit talks.
"Mrs. May can go and see whoever she wants," French Finance Minister Michel Sapin told Bloomberg. 
It's a fair point. But should the people she goes to see be able to spell her name? And her trip may also be overshadowed by Mexican leader Enrique Pena Nieto's decision to cancel his own summit with Trump.  

Labour Split
It's been a tough week for May, but it's getting rough for opposition leader Jeremy Corbyn too.
Two days after a Supreme Court ruling, the government on Thursday introduced a 137-word bill which asked for Parliament's permission to start the Brexit process.

Labour is still seeking to force May to report on her progress every two months, while the Scottish National Party proposed a "reset" clause that would keep the U.K. inside the EU if agreement on an exit deal wasn't reached.
Corbyn's Labour Party showed signs of splitting as soon as the bill was published, as he demanded his lawmakers support the bill or risk expulsion. MP Tulip Siddiq already resigned her place in his shadow executive team in protest of being told to back Brexit. 
Labour is currently fighting elections in two areas which supported withdrawing from the EU. The party's electoral base is split: a total of 149 Labour constituencies across England and Wales voted Leave and 83 supported Remain, according to research by Chris Hanretty of the University of East Anglia. 
Dublin Up
Barclays became the latest bank to choose the Irish capital for its main hub within the EU if Brexit reduces easy access to the bloc for London-based financiers.
It plans to add about 150 staff  in Dublin and has already has been in touch with local regulators, people familiar with the matter told Bloomberg's Stephen Morris. It is expected to update investors on Feb. 23.
The bank already has about 100 workers in its Irish division, and is the latest to move ahead with contingency plans as the Brexit negotiations near. Bloomberg reported on Thursday that Credit Suisse is also exploring options to expand in the city.
Why Dublin? Unlike Frankfurt or Paris, the city boasts similar regulatory and labor laws to London as well as the same language and a low corporate tax rate. Despite that, Deutsche Bank CEO John Cryan expects Germany will grow in importance as well.
Brexit Blocks Rate Hike
The risk the Brexit process eventually starts hurting the economy may be the only thing stopping the Bank of England from raising interest rates.

The U.K. economy was the fastest growing of the Group of Seven last year, with data released on Thursday showing it expanded 0.6 percent in the last three months of 2016. Consumer confidence rose to a four-month high, according to a report overnight.
Investors have raised bets on a rate hike by the end of the year, yet even as he may lift the BOE's growth forecasts next week, BOE Governor Mark Carney is set to remain cautious. The falling pound is pushing up prices and could knock consumer spending, while the central bank also expects investment to weaken.
Brexit Bullets
Brexit has stirred "significant uncertainty" in the U.K. property market, according to Roberto Cibeira, who oversees real-estate for the owner of clothing giant Zara
Draft Brexit law seeks to pull U.K. out of the European Atomic Energy Community 
EU lacks leadership to tackle crises, says Czech Finance Minister Andrej Babis
May is preparing to abandon plans for a bill of rights, says Telegraph
Financial Conduct Authority chief Andrew Bailey seeks more global regulation in face of Brexit
Pro-European groups say Gibraltar should be allowed free movement of people after Brexit
Turkey working on an extensive free trade agreement with the U.K., economy minister tells news agency AA
Finland "not prepared" to increase contributions to EU budget after Brexit, Finance Minister Petteri Orpo tells Kauppalehti
Brexit in View
There's plenty of Brexit from our colleagues at Bloomberg View today.
Leonid Bershidsky argues that the U.K.'s post-Brexit future is creative, while colleague Victoria Bateman says trade deals alone won't make a success of the split. Meanwhile, Therese Raphael says we should think about the U.K. in Nafta
On the Markets
The pound is losing favor among money managers and their $11 trillion of stockpiles.
As Liz Capo McCormick reports, the currency's share of global reserves has fallen for the last two quarters to 4.5 percent, according to the International Monetary Fund. Meanwhile, its use in global transactions has dropped to 7.2 percent, the lowest since August 2011, the Swift RMB internationalization tracker found.

And Finally…
Latvian Foreign Minister Edgars Rinkevics quoted from a classic of British literature in explaining Brexit to his parliament this week, namely "The House at Pooh Corner."
"Christopher Robin was going away. Nobody knew why he was going; nobody knew where he was going; indeed, nobody even knew why he knew that Christopher Robin was going away. But somehow or other everybody in the Forest felt that it was happening at last."
For more on Brexit follow Bloomberg on Twitter, Facebook and Instagram, and see our full coverage at Bloomberg.com
(
This article has been updated to correct total exports to Switzerland in the graphic
)
Before it's here, it's on the Bloomberg Terminal.
LEARN MORE