Abandoned S. Africa Mine a 'Catastrophe,' Rights Group Say
By
Blyvooruitzicht site maintenance ceased after liquidation

Residents exposed to radioactive dust, raw sewage in streets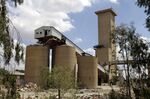 The closing of the Blyvooruitzicht gold mine in South Africa resulted in a humanitarian "catastrophe" and the government must protect the rights of residents who were neglected, according to advocacy groups.
The mine, about 80 kilometers (56 miles) west of Johannesburg, started production in 1942 and was operated by companies including DRDGold Ltd. and Village Main Reef Ltd. before going into liquidation in 2013. Lawyers for Human Rights, based in Johannesburg, and the Paris-based International Federation for Human Rights, gathered data from about 300 households in the area and found that 60 percent of them said they didn't have enough to eat or the ability to support their children.
"The catastrophe at Blyvooruitzicht is the result of a toxic cocktail involving private sector abdication of responsibility, an inadequate legislative framework and state enforcement effort," the groups said in a report released Friday.
Since the closure of the mine, the community of about 6,000 people has struggled to keep water and power connected to the area, Michael Clements, a representative for Lawyers for Human Rights, said on Friday. "This is much more than a collapse of the business," she said.
Maintenance of the site ceased after the liquidation, leaving residents exposed to radioactive dust from the mine waste areas and raw sewage in the streets due to the breakdown of infrastructure, according to the report. The community is also concerned about the possibility it may be evicted from the property, which belongs to the mine, and hasn't been able to obtain information from the state or companies over the status of the site.
A rehabilitation fund required for the mine hasn't been accessed and is inadequate to address the issues, Clements said.
Illegal miners have continued to work in the area, attacking the community, and buildings have been stripped by scrap dealers, said Pule Molefe, a representative of the Blyvooruitzicht Residents Committee.
"It's so painful because no one seems to care," he said. "Let us not allow another mine to go through what Blyvoor has gone through."