Your Evening Briefing
Here are today's top stories.
Bloomberg News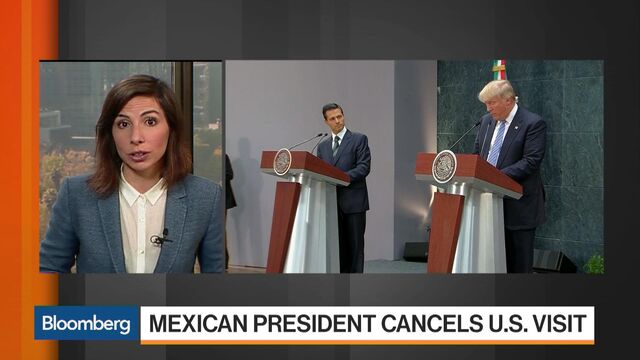 Want to receive this post in your inbox every afternoon? Sign up here.
It's the end of the world, or at least 30 seconds closer to it, according to the Bulletin of the Atomic Scientists. For the first time in three years, the fateful minute-hand moved a little closer to midnight on this symbolic apocalyptic measure.
The group's reasons for changing the Doomsday Clock have been the same for some time: threat of nuclear destruction and climate change. But the main reason we're now only 150 seconds away from the end instead of 180 seconds, the scientists say, is the new occupant of the White House. —David E. Rovella
An increasingly hostile war of words between Trump and Mexico's President Enrique Pena Nieto ended in the latter scratching the meeting entirely. (Pena Nieto expressed reservations about meeting with the new U.S. president given his plans for a border wall; Trump responded testily via Twitter.) The conflict adds to tensions in the U.S.-Mexico relationship and becomes the first major foreign policy for Trump since he took office on Jan. 20.  
Global warming and 15,000 warheads make for dangerous times. It's impossible to truly measure the risk or timing of a full-scale nuclear war or climate change-driven calamities, but the scientific community takes a moment every year to remind us exactly how much trouble we're in, via the Doomsday Clock. This year, Donald Trump is being blamed for pushing us closer to the apocalypse.
The special relationship has a new couple. U.K. Prime Minister Theresa May is paying a visit to Trump this week, providing his first chance at in-person diplomacy, albeit with one of America's closest allies. As the U.S. begins to extract itself from foreign entanglements like the TPP and Nafta, and Britain heads for the Brexit door, the two leaders are fashioning a U.S.-U.K. trade deal.
More bad news for George Soros. The liberal 86-year-old investor just can't catch a break. First he loses $1 billion by betting against the market after Trump's victory. Now, Dutch regulators revealed they mistakenly disclosed some of his short positions. While the regulator publishes shorts of 0.5 percent or higher, the smaller amounts were posted by mistake, it said.
China is getting old. Fast. The world's most populous country is turning gray. About 25 percent of China's population will be 60 or older by 2030, its government said. That's up from 13 percent seven years ago. That has big implications for China's economic growth, which could be undermined as the labor force declines and expenditures for insurance and health care rise.
In Elon we trust? The master of Tesla and SpaceX has a reputation for being way ahead of the curve in almost everything he does. So it shouldn't come as much of a surprise when he started appearing at Trump's Fifth Avenue building, and now the White House. Some of his green-leaning fans were aghast, but there seems to be a strategy at work here: Musk is pushing for a carbon tax, an idea supported by Trump's pick for secretary of state, former Exxon CEO Rex Tillerson.
Cars lend themselves particularly well to Instagram, and the luxury brands have figured this out. They've accumulated vast numbers of followers using tremendous, combustion-driven eye candy. Porsche's account, for example, racked up more than 6 million followers by posting images of its cars driving on ice, on racetracks, and near beaches. Lamborghini has 6 million as well, while Mercedes-Benz has more than 8 million, Audi almost 7 million, and BMW more than 10 million.
Before it's here, it's on the Bloomberg Terminal.
LEARN MORE