Gadgets
Which Fancy Cold-Press Juicer Is for You?
These four models will all look amazing on your kitchen counter. Now let's see how they stack up.
By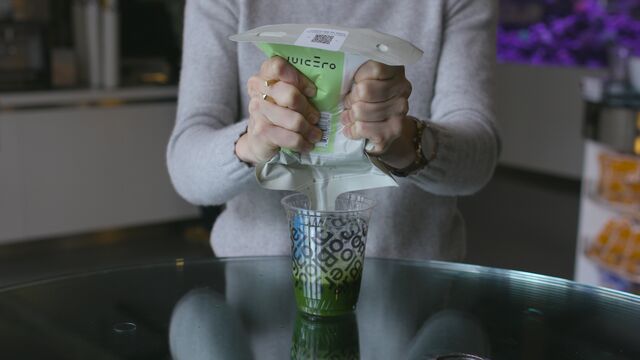 Eating more fruit and vegetables in your diet is one of the best things you can do for your health, which, while not exactly headline news, does go a long way toward explaining the rise of the $100 million cold-pressed juice market in recent years. 
Now, instead of spending upwards of $10 a pop on bottled versions with varying degrees of freshness, there's a new array of sleek, design-friendly countertop juicers that put the oversize, clunky models of years past to shame. But which to buy? We focused on cold-press (sometimes referred to as masticating or "slow" juicers), which crush and squeeze fruit, as opposed to centrifugal juicers, which slice and separate fruit with a quickly spinning blade. Cold-press juicers do their thing at a relatively slow, cool speed, which cuts down on oxidation and preserves more nutrients, and the machines can usually double as food processors. Juicing proponents claim benefits that range from lowered blood pressure, to beautiful skin, to a stronger immune system.
"When you juice [fruit and vegetables], you do get a quick burst of nutrients into your system," says Ellie Krieger, registered dietitian nutritionist and host of Ellie's Real Good Food on PBS, "but it needs to be balanced with the consideration that you don't get any fiber—and you get a lot of calories in the form of simple carbs, so you'll get a blood sugar boost without anything to temper it." Krieger warns against juice "cleanses" or "detoxes" (pure marketing bull: "It's not how our bodies work," she says), but agrees they have some benefit. "At the end of the day, I'd rather see people drink juice than having no fruits or vegetables in their life."
Methodology
We tested three new cold-press models, plus a Silicon Valley-approved fourth that defies easy categorization. In each of the three cold-press units, we made three juices modeled after popular juice-bar blends. Ingredients were weighed to ensure consistency.
Green Juice: romaine, apple, celery, cucumber, spinach, kale, parsley, ginger, and lemon, modeled after BluePrint Organic's signature "Greens" mix.
Total prep time per juice: 15 minutes (lots of washing/trimming)
Total price per juice: a startling $21— the caveat being that our local grocery store sells many items in bunches or bundles, as opposed to individual units, forcing us to buy more than we actually needed.
Red Juice: beet, carrot, orange, and lemon, enhanced with so-hot-right-now turmeric.
Total prep time per juice: 10 minutes
Total price per juice: $13.75
Almond Milk: raw almonds infused with vanilla and sweetened with dates.
Total prep time per milk: 5 minutes (plus soaking the almonds in water overnight to soften)
Total price per milk: $10
Finally, to taste-test the finished product, we assembled a miniature panel consisting of a juice-bar regular and a juice-bar avoidant, in the interest of balance, plus a neutral third. Here's a look at how things played out.

Aesthetics: Available in matte black or ultra-trendy rose gold, this sleek little number from Hurom has a modern, curvy design and uses relatively little countertop space.
Getting started: The juicer arrives with fine and coarse strainers, depending on your pulp preference, along with an ice cream maker, tofu mold set, and uniquely, a chamber rack for holding the disassembled parts (a neat touch, though it does require more counter space). We were slightly overwhelmed by the number of parts, but setup for basic juicing was pretty simple, with the auger (squeezing screw) and strainer fitting neatly into the chamber, and the hopper (where you feed the fruits and vegetables through a chute) clicking into place on top.
Performance: The Hurom runs quietly and smoothly, with an auger that spins at just 43 rpm and a handy "juice density regulator" switch that allows you to choose how much pulp makes it into the finished product. It made easy work of the greens—including leafy romaine, tough kale, and stringy celery, but ran into a little trouble squeezing everything out of softer citrus fruits, such as oranges and lemon. Almonds and vanilla went through like a dream. We did find ourselves wishing the chute was a little bigger, to minimize prep work, and clear, so we could see what was going on in the machine.

Juice results: We got an impressive 25 ounces of smooth, mild green juice with a pleasant pulp and minimal foam (a Blueprint bottle with the same ingredients is only 16 ounces and tasted acrid and bitter compared with the fresh stuff). Without the citrus fruit getting properly juiced, the 10.5 ounces of red juice tasted slightly flat, although our 14.5 ounces of almond milk were thick and creamy.
The takeaway: We liked how you could see the juice collecting in the chamber, and we really like that you don't have to clean everything between multiple juices in one sitting— simply run clean water through the body to rinse clean (alas, you will still have to disassemble and hand-wash everything when you're done juicing for the day). Overall, we were impressed by the style, power, and versatility of the Hurom, which packs a serious punch in its cool-as-a-cucumber casing.

Aesthetics: Omega, long considered an industry leader in the cold-press world, switches things up with—you guessed it—a nifty cube-shaped design. Every one of the (many) parts has a home built into the machine, so everything locks up neatly into itself—excellent for conserving countertop space and overall handsomeness.
Getting started: The setup here is a little different from traditional vertical machines, and it may take beginners a few extra minutes to figure out where everything is supposed to live.
Performance: This is a heavy-duty machine, with a 2-horsepower motor that spins at 80 rpm. In addition to juicing, you can also make nut butters and sorbet, grind coffee beans, and extrude pasta dough in this thing, which doubles as a homogenizer, mincer, and chopper. We found it handled the greens easily, though the sieve on top of the juice collector was flooded with a thick, goopy vegetable residue, which we weren't sure what to do with. (Mix it into the juice as thickener? Discard?) The red juice went well, though again the soft fruits were a challenge. Almond milk was a bit labor-intensive, as we collected the meal and ran it through twice, per the instruction manual.

Juice results: The green juice (yield: 22 ounces) was thick and vegetal, even without the added pulpy residue. Red juice (10 ounces) was deeply flavored, and the extra effort with the almond milk (16 ounces—note that we used an additional ½ cup of water for the second press) was worth it, as this was the thickest, creamiest-tasting milk of the bunch.
The takeaway: The Omega means business—with so many functions and so much power, you could streamline your appliances—and the self-storing cube functionality is a cool touch. It's not the most beginner-friendly model, but if you're serious about juicing, it's a worthy investment. 

Aesthetics: With a bit more curves than the Hurom, if your kitchen design sensibility leans toward '50s retro, this could be the best-looking juicer of the bunch; available in pastel blue, cream, red, or black.
Getting started: In shape and setup, the Smeg is fairly similar to the Hurom, with fewer bells and whistles (i.e. no tofu mold or ice cream maker, though it does have coarse and fine strainers). Assembly is similar to clicking together the parts of a food processor, though locking the hopper on and off between juices proved slightly tricky.
Performance: Smeg's auger also spins at 43 rpm, and the chamber has the same choose-your-own pulp switch as the Hurom. It handled everything in the green juice with aplomb, though it created more froth than the Hurom. It too had issues squeezing the lemons in the red juice, and the small pieces of turmeric also seemed to get lost, but almond milk was a breeze. As before, a larger, see-through chute would have been nice.

Juice results: The green juice (26 ounces) was slightly thick and fibrous, which not everyone loved. We missed the citrus and earthy turmeric flavor in the red juice (11 ounces), though the almond milk (14 ounces) was rich and tasty.
The Takeaway: Though there were fewer functions overall, we appreciated the recipe book that arrived with the machine and were impressed with the power of this compact piece. Plus, if you're into the vintage style, the Smeg is a beautiful appliance to show off in your kitchen—a bonus, in our book.

And then there's this guy.
Juicero, aka "The Silicon Valley Juicer" introduced last spring, was our wildest card of the bunch—it's technically cold-press, but wholly unlike anything else on the market, unless you compare it to Nespresso pod coffee machines. It looks like an Apple product, with a smooth techy design and a single button on the entire interface. It's large and heavy (16.5" x 10.25"; 31.5 lbs.), so if you're going to shell out $400 (recently down from $700), you'd better like the way it looks on your countertop.
Developed over the course of three years by Doug Evans, formerly of the health-food chain Organic Avenue, the Juicero promises organic, cold-press juice at home with the press of a button, and zero mess or cleanup. You simply hang a single-serving pack ($5-8) containing washed, chopped produce in the machine, close the door, place a glass under the spout, and press the button, Keurig-style. Assuming the QR code is scanned correctly (the machine won't work if the juice pack is expired or counterfeit), three minutes later, you have an 8-ounce glass of fresh juice, in flavors ranging from "Sweet Greens" to "Pure Pomegranate."

Of course, there's a tech component, too—it's Wi-Fi connectivity ain't for nothing. To use the machine, you must first download the Juicero app, which tracks your every move and sends notifications in real time ("Enjoying that Beta Glow? Get the details on what makes it so good for you"), which you'll either delight in or find slightly creepy.
Using the Juicero is, as promised, very easy—even if slightly off-putting to get fresh juice out of what essentially looks like an IV bag. Our tasting panel, though skeptical at first, was quickly won over by the flavor of the three juices we tried, all of which were rich, thick, and bright. The price tag is not insignificant, especially once you factor in the juice packs, but with zero prep or cleanup involved, it could pay off in the long run; the speed and convenience are undeniable. To echo Krieger—if it's a choice between no fresh produce or juice from a Jetsons-style robot machine, we'll choose the latter, even if it's from a pouch.

Before it's here, it's on the Bloomberg Terminal.
LEARN MORE