technology
Verizon Seen Winning Approval for Charter With Trump in Power
By and
Deal would need to pass agencies that were tough on telecoms

Companies may be forced to sell overlapping pay-TV markets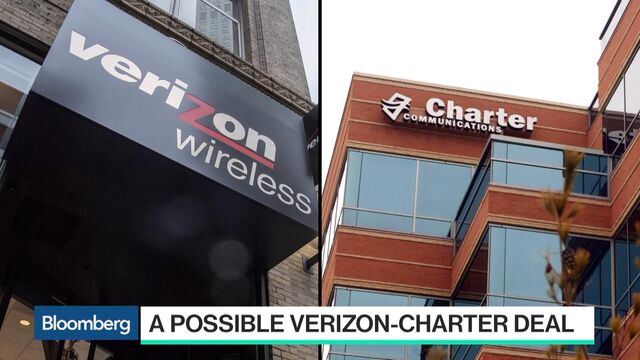 A Verizon Communications Inc. takeover of Charter Communications Inc. could probably win the blessing of regulators in Washington, where the new Republican administration may be warm to deals, lawyers and analysts say.
The combined company would need clearance from agencies that under the Obama administration moved against major telecommunications tie-ups, including AT&T Inc.'s bid for T-Mobile US Inc. and Comcast Corp.'s attempt to take over Time Warner Cable Inc.
"While we don't yet know how the new administration will approach antitrust issues, it is quite likely that it will be willing to consider deals that would previously have been considered unthinkable," said Andrew Jay Schwartzman, senior counselor at Georgetown University's law school in Washington.
More Deals
A Verizon-Charter merger would create a telecommunications and cable giant and vault the combined company past Comcast as the No. 1 internet provider in the U.S. More deals are likely among telecommunications firms as the Trump administration takes power and a TV airwaves auction that prevented merger talks between companies comes to an end.
"We've had all the stars aligning in a Trump administration that people at least assume will be a bit more permissive with respect to consolidation" and the end of the airwaves sale, said Moffettnathanson analyst Craig Moffett in an interview on Bloomberg Television. "The gates are being flung open and I think you're going to see every conceivable combination put onto the drawing board."
Verizon Chief Executive Officer Lowell McAdam approached Liberty Media Corp. CEO Greg Maffei about a possible combination with Liberty's Charter, according to people familiar with the matter, Bloomberg reported Thursday.
When he was a candidate, Donald Trump said he'd block AT&T's proposed purchase of TV-show and movie maker Time Warner Inc. because it concentrates too much power. Whether his administration will actually move to block that deal isn't clear.
"If he thought that deal should be blocked, I can't see why this would be different," said Scott Wagner, an antitrust lawyer at Bilzin Sumberg.
Even Trump Might Not Be Able to Stop This Merger: QuickTake Q&A
Verizon and Charter may have to divest pay-TV subscribers in metropolitan areas where they overlap to resolve competition concerns, said Fred Campbell, a former wireless bureau chief at the Federal Communications Commission, which would review the deal if it comes together. Their combined market share of video subscribers would be 41 percent in New York City and over 70 percent in several cities in upstate New York, according to Bloomberg Intelligence.
"If Verizon simply divests itself of those overlapping assets, there is no reason this deal should not go through," said Berin Szoka, president of TechFreedom, a non-partisan group that promotes free-market principles.
Another issue for any review could be the combined firm's control over high-speed internet service. The Justice Department's antitrust division and the FCC opposed Comcast's planned takeover of Time Warner Cable in 2015 because it would have given Comcast a dominant position over the national broadband market. That view went beyond the traditional antitrust analysis of looking at where companies compete head-to-head.
"Whether the national broadband share plays a role is very much an open question," said Bob Cooper, an antitrust lawyer at Boies Schiller Flexner LLP. "That was a major focus of the analysis in Comcast-Time Warner Cable, but that focus was directed by a different Justice Department and a different FCC."
Antitrust Division
Trump has yet to announce his choice to lead the Justice Department's antitrust division, which is being run on an interim basis by Brent Snyder, a longtime criminal prosecutor in that office. At the FCC, Trump named Ajit Pai as chairman to replace Tom Wheeler.
Pai was a regulatory lawyer at Verizon from 2001 to 2003, before serving as an attorney in Congress and at the Justice Department. As a member of the FCC, he's been a persistent critic of merger reviews that he says take too long and burden companies with overly broad behavioral mandates.
In 2012, Pai joined a unanimous agency vote to let Verizon buy airwaves licenses from cable providers. At the same time, he criticized the agency for requiring, as a condition of approval, that Verizon share airwaves with rivals. He voted against letting Charter buy Time Warner Cable -- a deal that had enough FCC votes to pass -- in order to protest requirements imposed by the agency. He said the deal had become a vehicle for Democrats' "ambitious agenda to micromanage the internet economy."
His comments reflect a Republican theme, also expressed by lawmakers, that the FCC exceeds its powers during transaction reviews.
"I don't believe that any merger is unthinkable for this administration, regardless of what the president has said about media consolidation," said Gigi Sohn, a fellow at the Open Society Foundations and a former aide to Wheeler, a Democrat who left office as Trump was inaugurated. "There are few things that the American people hate more than this kind of concentration of power. It leads to fewer choices, higher prices and job loss. There's nothing for them to like."
Before it's here, it's on the Bloomberg Terminal.
LEARN MORE