U.S. Trade Spat With Japan Offers Lesson as Trump Eyes China
By and
Under Clinton, U.S. threatened 100% tariffs on some car models

Some analysts see Trump rhetoric giving way to pragmatism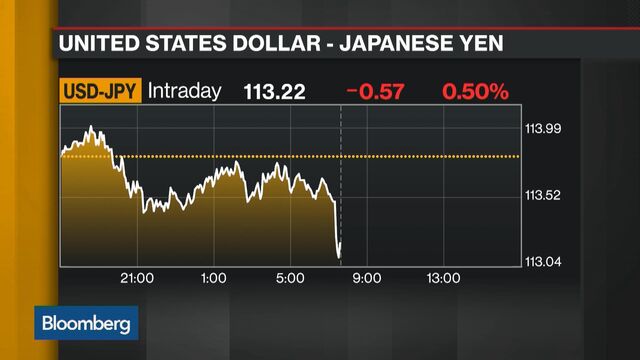 Heightened trade tensions between the world's two biggest economies. Threats of tariffs and retaliation over a bulging trade deficit. A new U.S. president demanding concessions.
Donald Trump isn't the first U.S. president to take aim at the country's biggest trade rival. Bill Clinton unleashed a long verbal assault on Japan, accusing the Asian nation of unfair practices and of keeping its markets shut to U.S. goods.
Though the U.S. and Japan had butted heads over trade in the 1980s, Clinton took on the country more aggressively than his predecessors had. He sought Japanese concessions in areas such as car parts, microchips and access to Japan's markets, and demanded that Japan rein in its current-account surplus. The U.S. at one stage threatened 100 percent tariffs on 13 Japanese car models.
 
But by 2000, when Clinton returned to Japan for his final Group of Seven summit, the two countries were focused on how to help the world's poorer countries. Trade was no longer the biggest concern.
These days China, however, offers a different proposition, given its growing rivalry with the U.S. not just as a global economic powerhouse, but also in geo-politics, defense and as a global soft power. The added security dimension means Trump's play on China could end up in a myriad of outcomes.
Deal or No Deal?
One key unanswered question is whether Trump is willing to back up his bellicose campaign rhetoric toward China with corresponding action, or is merely staking out a negotiating position, perhaps even a grand bargain on trade, Taiwan and the South China Sea. There's a chance Trump, after all his initial protectionist talk, could go the way of Clinton, who eventually developed such a reputation for defending world trade that he was chastised by anti-globalization protesters at the World Trade Organization meetings in Seattle in 1999. Clinton paved the way for China's joining the WTO two years later.
Trade is often an early target with new governments and it's important to watch how the policies play out over time, International Monetary Fund deputy spokesman William Murray said at a press briefing in Washington on Thursday.
"We see many administrations when they first take office, that trade is actively debated, trade policy is amended and adjusted, so we have to see where this heads," Murray said.
Under Trump's watch, most analysts see pragmatism prevailing to prevent a trade war that would not only damage China's economy, but also America's and those of key U.S. allies in China's supply chain such as South Korea and Taiwan.
Trade between China and the U.S. supports about 2.6 million American jobs, according to the U.S.-China Business Council. While the U.S. continues to have a gaping goods-trade deficit with China, its exports of services to the country are growing rapidly. Between 2006 and 2014, they climbed more than 300 percent.
"Trump is unlikely to impose large-scale tariffs on products from China," said Douglas Paal, a vice president at the Carnegie Endowment for International Peace.
"If Trump finds a way to impose some painful tariffs on Chinese products, there will be retaliation measure for measure from China. That in turn stands a very small chance of turning into a broader trade war, which would shrink global growth commensurately," said Paal.
Read more on how a Trump-China trade war might play out
Some economists expect the new U.S. administration to pursue complaints through the World Trade Organization and target the usual sectors such as iron and steel. It could also increase scrutiny of Chinese investment and label its rival a currency manipulator, though such a move would have little immediate impact.
"Some of these steps might be more flexible tools for sending messages to China and less likely to create immediate problems for the United States," said Gregory Mastel, a senior adviser at Kelley Drye & Warren and former chief international trade adviser and economist for the U.S. Senate Finance Committee.
"That all suggests years of conflict on a number of issues, not a one-shot tariff increase," he said.
'Confronting the Dragon'


Trump has placed China hawks in key positions, and his immediate withdrawal from the Trans-Pacific Partnership trade agreement is just one demonstration that he is prepared to follow through on campaign promises.
His selection of Peter Navarro to head the first White House Trade Council has also alarmed some analysts. Navarro, a professor of economics at the University of California at Irvine, is a noted China hawk whose books include "Death by China: Confronting the Dragon -- A Global Call to Action."
Navarro says the U.S. is under attack from China, and he sees parallels to the U.S. relationship with Japan in decades past.
"Just like China is today, Japan cheated in the 1980s," Navarro said in an interview last year. "Trump knows that in order for the global economy to prosper, we need to be able to trade freely. But he's not going to stand -- for a second -- cheating."
Yet on the other hand, some Trump advisers have already played down the risk of a trade war. Hedge fund manager Anthony Scaramucci said in a December interview with Bloomberg Television that the new administration will want to "start with carrots" before ramping up pressure on China and it would use the threat of tariffs as a "negotiating chip." Scaramucci has since joined the administration.
Trump promised voters he would bring many of the manufacturing jobs lost to China back to the U.S. by confronting the country. Cheap Chinese imports have cost as much as 2.4 million lost U.S. jobs between 1999 and 2011, according to estimates by economists at the Massachusetts Institute of Technology.
So while the U.S. and Japan a generation ago were able to paper over their differences, the risk for China is that Trump takes a harder line than Clinton ever did.
"Growth could certainly take a hit if the U.S. under Trump makes radical changes to tax and trade policy," according to Andrew Batson, head of Chinese research at Gavekal Dragonomics in Beijing. "And while China has plenty of weapons to fight a trade war, those measures are unlikely to completely offset a sudden shock to its exports."
— With assistance by Austin Weinstein
Before it's here, it's on the Bloomberg Terminal.
LEARN MORE