Trump Urges Republican Lawmakers to Move Fast on His Agenda
By and
'Now we have to deliver,' president says in speech to retreat

Health plan, border wall, taxes, infrastructure top list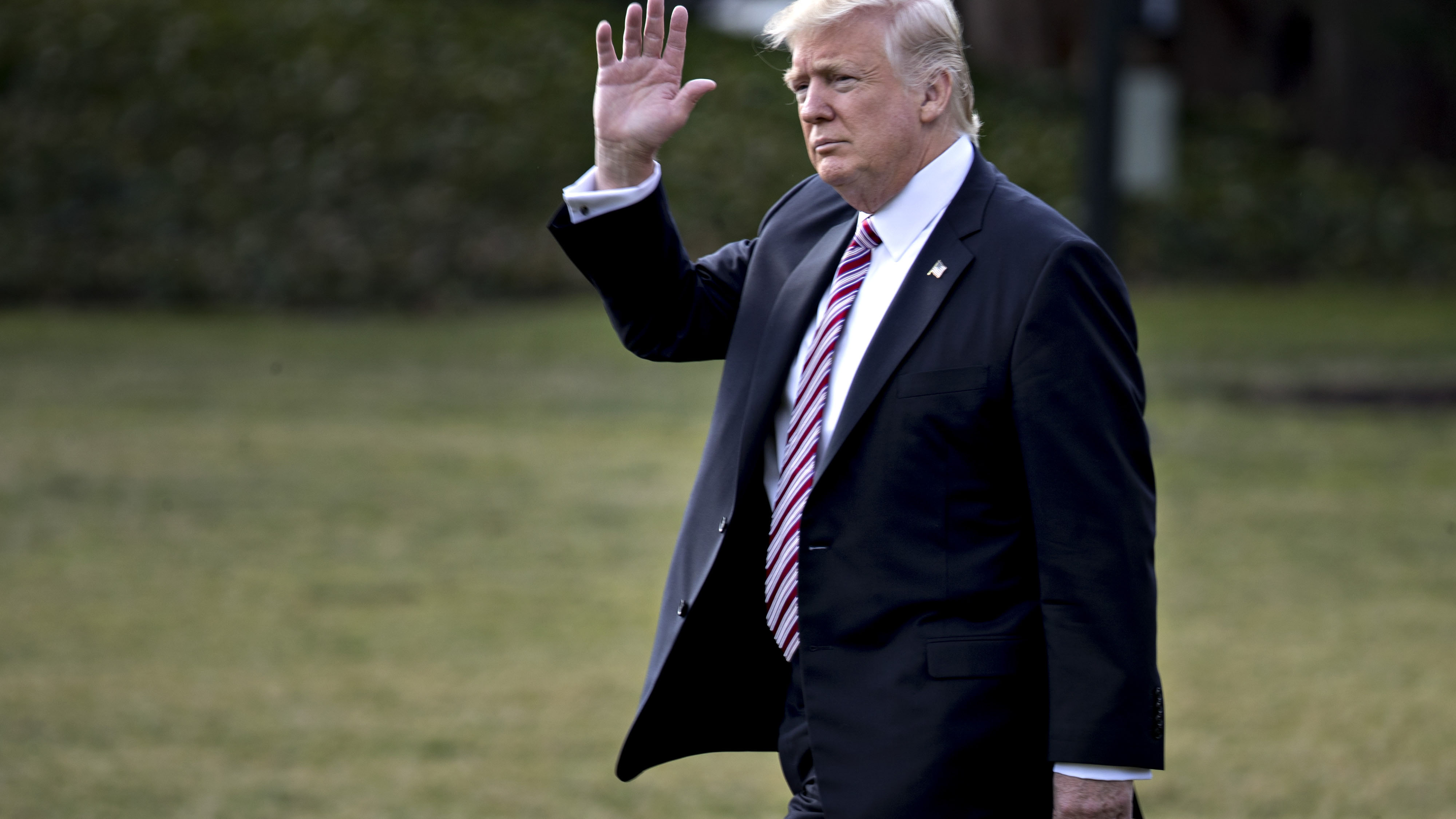 President Donald Trump rallied Republican lawmakers on Thursday to act quickly on priorities including a border wall and a new health care law after years of partisan gridlock between the White House and Congress.
"We're here now because tens of millions of Americans have placed their hopes in us to transfer power from Washington, D.C. and give it back to the people," Trump said at a Republican congressional retreat in Philadelphia. "Now we have to deliver. Enough all talk, no action. We have to deliver."
Republicans control both the House and Senate in addition to the White House, the first time the party has held all elected branches of the U.S. government since 2006.
Trump's appearance at the retreat was his first trip outside the Washington metropolitan area since he was inaugurated, as well as his first flight on Air Force One as president. His intention was to motivate and unify congressional Republicans behind his agenda, including border security, repealing and replacing the Affordable Care Act, re-negotiating U.S. trade deals and a renaissance in American manufacturing.
Where's Pompeo?
But while Trump spoke from a teleprompter, the speech characteristically veered off topic. Trump twice asked if his CIA director, Mike Pompeo, a former congressman, was in the audience. "Where is Pompeo, where the hell is he?" Trump said.
A CIA spokesman declined to comment on Pompeo's whereabouts.
At another point, Trump discussed rising murder rates in U.S. cities. "What the hell is going on in Chicago?" he said.
"Democrats!" one of lawmakers responded. The Associated Press reported that it was Representative Louie Gohmert of Texas.
Trump recounted his election and bragged about winning Pennsylvania; returned again to the subject of his inauguration crowd size; and declared that the 115th Congress will be "the busiest Congress we've had in decades. Maybe ever."
Obamacare Intentions
Congressional Republicans were especially eager to hear the president's intentions for legislation repealing and replacing the Affordable Care Act. Trump has promised an affordable health care plan that would offer all Americans coverage, but lawmakers are uncertain how to reconcile those goals with pledges to reduce the cost of insurance and scale back government involvement in the industry.
Trump did not offer much detail on his plans for the law in his public remarks, and he canceled a scheduled question-and-answer session with lawmakers afterward.
Trump said he considered waiting two years to tackle the Affordable Care Act, believing that "catastrophic price increases" for insurance would force Democrats to "come to us" to change the law.
"We're putting ourselves at risk, to a certain extent, because we're taking it off their platter," he said. "If we waited two years, it's going to explode like you've never seen an explosion. Nobody's going to be able to afford it. That's politically what we should do."
While premiums have broadly increased this year for plans sold under the Affordable Care Act, enrollment under the law continues to grow, albeit more slowly than expected when it was passed. About 11.5 million people had signed up for coverage for 2017 through Dec. 24, on pace for an increase of about 2.5 percent over 2016. The enrollment period closes Jan. 31.
Obamacare Divisions
There are also divisions within the party over the timing of legislation and how to handle the Medicaid program that provides health care to the poor and disabled. Trump has promised to reveal his plans following confirmation of Rep. Tom Price, a Georgia Republican, as secretary of the Department of Health and Human Services.
The Senate's No. 3 Republican, South Dakota Senator John Thune, said he hopes House and Senate Republicans can settle this week on a path for replacing Obamacare.
"Consensus is something we are aiming for," Thune, chairman of the Senate Republican caucus, told reporters on Tuesday. "The key is to find as much common ground as we can with regard to the substance and process, about how we proceed going forward."
Interim House Budget Committee Chairman Diane Black told reporters Wednesday she expects committees to begin marking up repeal-and-replace legislation "in the next two weeks."
Much of Trump's agenda will require congressional backing. In an executive order signed Wednesday, Trump laid out plans to ask Congress for more money to hire additional border patrol agents, immigration officers, and to construct a wall on the Mexican border.
Funds Coming
House Speaker Paul Ryan and Senate Majority Leader Mitch McConnell said they anticipate approving Trump's wall as part of a $12 billion to $15 billion supplemental spending bill for border security.
"The point is, we're going to finance the Secure Fence Act, which is the construction of a physical barrier on the border," Ryan told reporters at a news conference in Philadelphia.
Trump has also advocated broad corporate tax reform, which the president says can jump-start the economy and encourage businesses to invest in American manufacturing. But Trump has already publicly split with Ryan over key provisions, including House Republican plans for a border adjustment tax.
Ryan told his members on Wednesday that he expected work on the tax package to occur in the summer, after Congress tackles an Obamacare repeal.
But the split over taxes underscores the uneasy alliance between Trump and Republican leaders on Capitol Hill. During the campaign, Ryan was openly reluctant to endorse the party nominee and told lawmakers they could abandon their own support for Trump after disclosure of a video in which the nominee was heard explicitly discussing female anatomy and his own behavior toward women.
In a stream of October tweets, Trump called Ryan "weak and ineffective" and berated him for his disloyalty.
— With assistance by Erik Wasson, Nafeesa Syeed, Steven T. Dennis, Jennifer Jacobs, and Zachary Tracer
Before it's here, it's on the Bloomberg Terminal.
LEARN MORE