Sanctuary-City Mayors Vow to Defy Trump After He Threatens Funding
By
Across the U.S. cities get a total $650 billion in federal aid

'See you in court' say lawmakers as action is questioned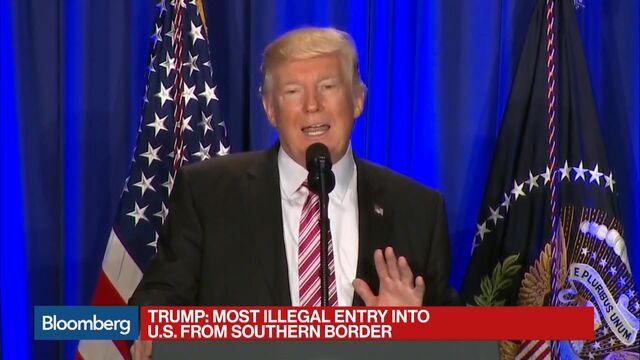 Mayors of New York, Chicago and Los Angeles vowed to continue to provide services to law-abiding undocumented immigrants after President Donald Trump threatened to strip federal aid from so-called sanctuary cities unless they end the practice.
In one of two executive orders Trump signed at the Department of Homeland Security Wednesday, Trump said he would deny federal grant money to cities that protect illegal immigrants from prosecution, though he didn't specify what U.S. funds might be withheld.
The threat sets up a showdown in which some $650 billion could be at risk, funds that help pay for police, schools, health care and road and bridge maintenance. Trump may be legally limited in his authority to withhold federal funds based on cooperation with his policies, a point officials in New York and California said they are ready to litigate.
New York, Los Angeles, Philadelphia, Chicago and San Francisco -- all of which voted for Hillary Clinton -- are among the scores of cities that refuse to report illegal immigrants to federal authorities. Police and other agencies don't share information about them, on the grounds that would harm their communities and impede police effectiveness in minority neighborhoods.
"This is going to be very destructive to this city, and it's also immoral," said Mayor Bill de Blasio of New York, home to about 500,000 undocumented immigrants, where federal funds account for more than 10 percent of its $84 billion budget. "We're going to do all that we can with the powers of New York City to protect them."
Protect Children
Los Angeles Police Chief Charlie Beck said in November his agency would not help the federal government with toughened immigration enforcement policies. Police in the nation's second largest city are prohibited from stopping someone solely to determine immigration status and they don't hand over people arrested for petty crimes to federal immigration officers.
"What we don't do is ask local police officers to enforce federal immigration laws — and that's an official LAPD policy that has been enforced for nearly 40 years," Mayor Eric Garcetti said in a statement Wednesday. "That is for everyone's good, because trust between police and the people they serve is absolutely essential to effective law enforcement."
In Chicago, Mayor Rahm Emanuel said his city would protect children of undocumented immigrants who are now covered under a 2012 law known as Deferred Action for Childhood Arrivals that allows those who entered the country as minors to receive renewable two-year permits to stay without deportation.
"These are kids who are going to college, playing by the rules, and doing right," Emanuel said in a prepared statement. "We are going to stay a sanctuary city."
'Immeasurable Harm'
The Federation for American Immigration Reform, a conservative group that advocates for tougher immigration enforcement, says sanctuary policies force U.S. taxpayers to cover the costs of schools, medical care, criminal justice, and other services. The policies undermine national security and encourage more people to enter the country illegally, it argues.
Trump's executive order proclaims that sanctuary cities "have caused immeasurable harm to the American people and to the very fabric of our Republic."
Still, the order appears to acknowledge that there are limits to withholding federal funds based on cooperation with his policies, said Adam Cox, a New York University professor who specializes in constitutional law and immigration. The order says federal money would be withheld from sanctuary cities "to the extent it's consistent with the law," Cox noted.
Congress would have to attach conditions on the use of federal money, such as requiring police to cooperate with the federal government, to have the power to take away funding, Cox said.
The U.S. Supreme Court has ruled the U.S. may cut funds from states and cities that violate its policies if the funds are cut from programs consistent with the policies that are being violated. In a 1987 case, the court ruled the government had the right to deny highway funds to South Dakota after it violated the federal drinking age of 21 because it was related to drivers' safety.
Democratic state attorneys general who are already coordinating their opposition to Trump policies vowed to fight his crackdown on sanctuary cities. Massachusetts Attorney General Maura Healey called the president's executive order "an irresponsible attempt to coerce our communities into conducting his mass deportations."
The president lacks "the constitutional authority to cut off funding to states and cities simply because they have lawfully acted to protect immigrant families," said New York Attorney General Eric Schneiderman, who sued Trump over his now-defunct Trump University.
"Cutting off funds for cities that refuse destructive deportation programs is unconstitutional," California Senate President Pro Tem Kevin de Leon said on Twitter. "See you in court."
— With assistance by Nicole Piper, Eric Englert, Erik Larson, Jonathan Levin, Esmé E Deprez, and Kartikay Mehrotra
Before it's here, it's on the Bloomberg Terminal.
LEARN MORE