Trump's Uncertainty Principle
Pay no attention to the strongman who may or may not be behind the curtain.
By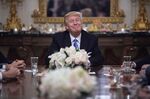 During Barack Obama's two terms in the White House, business executives complained that uncertainty about government policy was messing up their decision-making. "Operating a business under conditions of excessive uncertainty is like playing a game when you don't know the rules. Without rules, it is impossible to develop a strategy or playbook," then-Federal Reserve Bank of Dallas President Richard Fisher said in a 2010 speech that was cited approvingly by the Business Roundtable, a lobbying group for large corporations.
Now that Mister Unpredictable is president, you'd think executives would be more concerned than ever. Donald Trump is personalizing and improvising economic policy, which is contrary to executives' preference for clear, consistent rules of the road. No one knows which American company will be his next Twitter victim. He wants to impose an unprecedented "border tax" on companies that move jobs abroad. His goals for the economy are ambitious but vague. The Economic Policy Uncertainty Index, which is maintained by academic economists, shot up after Trump was elected.
Yet it's hard to hear a peep of disapproval or concern from CEOs. "What somebody's saying is not necessarily what they're going to do," says David Cote, chief executive officer of Honeywell International. Ford CEO Mark Fields emerged from a two-hour meeting with other manufacturing executives and Trump on Jan. 23 proclaiming it "very, very positive." Arconic CEO Klaus Kleinfeld told Bloomberg he was favorably impressed by his first meeting with the president, which ended in the Oval Office. "We had a very open dialogue, extremely open dialogue," said Kleinfeld, who was CEO of Alcoa before it split from Arconic last year. "He did not have positions he was fixated on. He was asking questions and listening."
That sort of bonhomie led former Treasury Secretary Larry Summers to grumble in a Bloomberg Television interview that business leaders who "two, three months ago were saying he was a man they'd never do business with are now hailing him as a great statesman."
One factor in the CEOs' good cheer, no doubt, is that they don't want to get on the wrong side of the prickly president. But the executives also appear to genuinely believe that however volatile he might be, Trump will be a better friend than Obama was. "The Obama administration was hostile to business formation and pro-growth policies," says Eric Cantor, a former leader of the House's Republican majority who's now vice chairman of Moelis, an investment bank. "We've had a tectonic shift in the way Washington looks at business."
The open question is whether Trump will, on net, be good or bad for business. The first billionaire president could help companies by cutting their taxes, reducing regulation, and generally understanding their needs in a way the community organizer who preceded him never could. But Trump could also make a mess of things if erratic policies create fear, uncertainty, and doubt. Trade wars could break out. Interest rates could soar to punishing levels if Trump manages to persuade Republicans in Congress to pass the giant tax cuts he's seeking without corresponding spending reductions.
The cloud of uncertainty Trump has kicked up may be a big deal for the economy, or not. "Uncertainty About Uncertainty" was the title of a November speech by Kristin Forbes, an external member of the Bank of England's Monetary Policy Committee. She cited 17 studies going back to one by Ben Bernanke in 1983 that found, variously, that uncertainty curbs business investment and hiring, causes consumers to retrench, makes companies less productive, and raises the cost of capital by churning financial markets. But Forbes concluded, "Measuring uncertainty is hard. Measuring the impact of uncertainty on the economy is even harder."
For one thing, uncertainty isn't necessarily bad. It simply means the distribution of possible outcomes—both upward and downward—has widened. Investors in the stock market seem to be betting on the upside of the distribution, judging from the 6.5 percent rise in the S&P 500 since the election. It's also possible that what looks like economic uncertainty is really just scary reports in the news media. Stanford economist Nicholas Bloom, an originator of the Economic Policy Uncertainty Index, joked (I think) in an e-mail, "It may simply be the news has no connection to reality—as you know from Trump, you guys are the biggest liars."
The one thing certain is Trump's volatility. Businesses are employing a range of coping strategies. One is to do nothing. "Postponement is a rational strategy, in a sense," says Martin Reeves, a senior partner at Boston Consulting Group. Another game plan is to play along in hopes of earning some of the incentives Trump is dangling in front of companies that locate plants in the U.S. It's not clear, though, that insourcing is always the right idea: "The last thing the auto industry needs is more capacity," Marina Whitman, a University of Michigan professor and former General Motors chief economist, said after Trump met with auto execs on Jan. 24. Doing stuff in the U.S. that could be done more cheaply abroad raises consumer prices. And there's no glut of skilled autoworkers in a U.S. labor market whose unemployment rate (after eight years of Obama's supposed hostility to business) is already down to 4.7 percent.
Pretty much no businessperson is openly defying Trump. The Business Roundtable, which long supported the Trans-Pacific Partnership, was maximally meek on Jan. 23, when Trump tore up the trade deal as one of his first acts in office, referring blandly to "executive action made today by President Trump" and then saying it's "encouraged by the Administration's commitment to pursue trade agreements."
What CEOs can do, and are doing, is to gather every scrap of information they can get about Trump's intentions. Following his Twitter account has become de rigueur. The president knows he can get busy CEOs to show up at the White House on extremely short notice—invitations to the manufacturing summit held on the morning of Jan. 23 went out on the evening of Jan. 21. As reported by Bloomberg Businessweek, former Trump aides Corey Lewandowski and Barry Bennett have cashed in on the demand for closeness to Trump by founding a lobbying firm, Avenue Strategies, that's coupled with a pro-Trump super PAC. Clients are flocking to it.
What business wants is for Trump to fulfill all the promises they like and forget the ones they don't, such as the border tax, which would wreak havoc on global supply chains. Jim Wilkinson, who runs the Strategic CFO, a Houston consulting firm for chief financial officers, had 10 of them in his offices just before the inauguration. Their mood was positive. "I said, 'OK, what happens when the honeymoon's over?' … I don't think it's going to be evident for some time who's going to win and who's going to lose." Even if businesspeople could get a fix on what Trump will do, "we don't know the reaction to the policy" by other actors, such as China, says Boston Consulting's Reeves. "Violent social and political reactions are possible."
Daron Acemoglu, who was born and raised in Turkey and is a top economist at MIT, says business executives are missing the danger Trump presents. He likens him to Turkish President Recep Tayyip Erdogan, who's consolidated power while weakening institutions such as the judiciary and the press. "We can probably withstand four years of bad economic policy, but with some of these other things the damage can be even deeper," Acemoglu says. "In Turkey, I remember, there was a huge amount of complacency, as there is in the United States, that it will all work out."
Cantor, the former Republican congressman, scoffs at the comparison. "I don't think that most businesses really think that we're in an era of a strongman president," he says. No, they don't. That's just one more thing to be uncertain about.
 
—With Matthew Campbell, Keith Naughton, and Thomas Black
Before it's here, it's on the Bloomberg Terminal.
LEARN MORE