Trump Finds Unlikely Ally in Polman, Globetrotting Unilever CEO
By
CEO says a 'misperception' that Trump opposes globalization

Trump wants global wealth 'distributed more evenly': Polman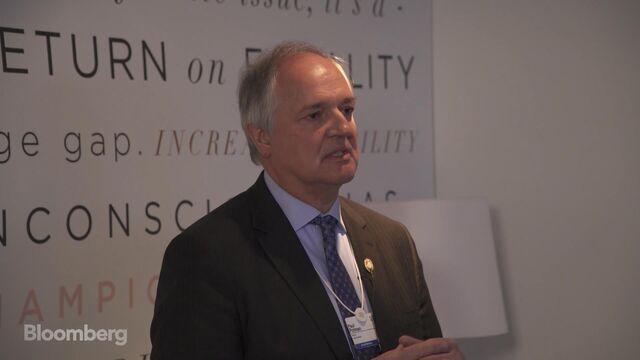 At first glance Unilever Chief Executive Officer Paul Polman doesn't come across as a typical Donald Trump advocate. A globetrotting intellectual who happens to run a massive consumer-goods company, Polman champions sustainability, gender equality and the well-being of the world's poorest, while projecting a glitz-free public image.
And yet, Polman found surprisingly positive words for the 45th U.S. president Thursday. The Dutchman's message: Trump wants a more equal distribution of globalization's spoils. Any view that the Trump administration opposes a more global order is a "misperception," Polman told reporters during an interview following the company's full-year results.
"I think the new administration wants wealth from globalization to be distributed more evenly," said Polman, who was co-chair of the World Economic Forum at Davos in 2012.
Trump withdrew from the Trans-Pacific Partnership trade agreement in his first day in office, and opposes other trade deals, such as Nafta, which he has routinely blamed for the loss of U.S. jobs. Corporate chiefs of all stripes are treading lightly around Trump and promoting U.S. expansion plans to avoid landing in the crosshairs of his rapid-fire Twitter feed, which can send a company's shares plunging.
Polman, who's married to an American and sits on the board of U.S. chemical giant Dow Chemical Co., also said he expects consumer confidence to improve in the U.S., the company's largest market, where it sells everything from Dove soaps to Hellmann's mayonnaise. Unilever's sales growth in North America improved slightly last year thanks to new deodorants and ice creams. The company employs more than 8,000 people in the U.S. out of about 170,000 worldwide.
Despite the supportive words, Polman tweeted in favor of the Jan. 21 Women's March, in which hundreds of thousands of people demonstrated in cities like Washington, Chicago, and New York in response to Trump's surprise election victory.
— With assistance by Thomas Buckley
Before it's here, it's on the Bloomberg Terminal.
LEARN MORE