Spend
The One Gadget Every Tech-Savvy Diver Needs
Even if you already own a dive computer, consider the Suunto Eon Steel.
By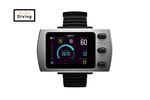 Key Details: A beautiful, customizable diving computer with an easy-to-read interface. Battery life lasts from 20 to 40 hours of dive time per full charge, which takes about 4 hours.
Competitors: Shearwater Perdix ($1,075); VTX Oceanic ($1,000); Scubapro Galileo Luna ($747).
Price: $1,439.
Why It's Worth It: The high-contrast color screen includes depth, no decompression limits, dive times, and temperature reading, and it will wirelessly tell how much air is left in your tank.
You need two primary pieces of information from a dive computer: your depth and how much time you have left before too much nitrogen gives you the bends. More advanced gadgets can tell you about the temperature of the water and the quality of the air left in your tank and may come with a submersible pressure gauge to measure the amount of remaining air pressure you have. The Suunto Eon Steel does all this, and it also comes with a full-color screen and brushed stainless steel bezel, making it the best-looking dive computer on the market. 
Hardcore, technical divers sometimes prefer the Shearwater Perdix for its reliability in extreme conditions, but for the average diver, the Suunto Eon Steel "does everything you could ever want it to do," according to Jeremy Theade, a salesman at the Silicon Valley-based Diver Dan's. And with a new, long-awaited software update coming this spring, now is the time to invest in one.

One of the first things you notice? Its size, which is more than 4 inches from left to right. And at 347 grams (12.2 oz), it is not the lightest dive computer on the market. But that weight is first-rate stainless steel, which gives it a substantial, premium heft. And underwater, the weight doesn't really matter.
The second thing is the digital compass. Although many old-school divers scoff at the historical unreliability of digital compasses, the Eon Steel houses one of the best ever built. This next-generation version is easy to read and adjust, it updates in real time, and the programming and customization process is so easy you'll be tempted to skip the manual and start ahead. 
As an "air-integrated dive computer," it uses wireless radio frequencies to pair the Suunto with its appropriately state-of-the-art Tank Pod pressure transmitter, sold separately. So instead of merely telling you that you have 1,000 PSI left in your tank, it runs an algorithm to tell you also how many minutes are left. "It's another piece of the puzzle," Theade says. Hold the Eon next to the transmitter when attached to a tank, and after a few seconds the Eon's screen will show pressure and battery readings. LED function lights let you know when it's sending data. 
It's really these color displays that make the Suunto Eon Steel the most forward-thinking option in the dive-computer evolution. The programmable alarm systems, whether a maximum-depth warning or tank-pressure limit, are easy to program for even the most recreational diver. And with an operating depth of nearly 500 feet, it works for more advanced divers as well.
Before it's here, it's on the Bloomberg Terminal.
LEARN MORE