Shkreli Judge Rules on Communications With Ex-Lawyer
by
Retrophin founder says documents will clear him in fraud case

'Most hated man' says he was just following attorneys' advice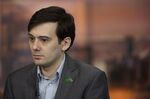 The judge presiding over Martin Shkreli's criminal case said one of the drug companies he founded may assert its privacy right over communications he had with his ex-lawyer who's accused of helping him carry out a fraud.
U.S. District Judge Kiyo Matsumoto on Wednesday ruled that records turned over to Shkreli co-defendant Evan Greebel by Greebel's former law firm last month don't "constitute a waiver" by Retrophin Inc. of the confidentiality protections that apply to communications between clients and attorneys.
The ruling comes as Shkreli is trying to convince the judge to order the law firm to turn over three years' worth of documents that he says will help clear him of wrongdoing.
The 33-year-old founder of Retrophin and Turing Pharmaceuticals AG was dubbed in the media as the "most hated man in America" for raising the price of a potentially life-saving drug by 5,000 percent.
Shkreli's securities-fraud case stems from his operation of two hedge funds. Federal prosecutors say he defrauded investors in the hedge funds and used $11 million of Retrophin assets to pay them off. He's also accused of hiding his control of the company's unrestricted stock to help pay off his debts.
Katten Muchin Rosenman LLP, the firm that employed Greebel while he was representing Shkreli, has argued it shouldn't be forced to hand over almost 600,000 pages of material, including 175,000 e-mails and documents, which covers years of work for multiple entities. The judge hasn't issued a final ruling.
Shkreli's current attorneys claim the Katten records will show that he acted in good faith and without criminal intent in connection with the decisions that got him charged with a crime.
"Shkreli sought and received his lawyers' legal advice and he followed it," his current attorneys, Ben Brafman and Marc Agnifilo, said in their request for the Katten records.
A complication is that Greebel is accused of helping Shkreli carry out part of the scam and to cover his tracks.
Retrophin has argued the documents turned over to Greebel are protected by the attorney-client privilege. Shkreli's team said Retrophin had already turned over many of the documents to the government during its investigation before charges were filed.
Both Shkreli and Greebel have pleaded not guilty and face trial in June.
At a pretrial hearing scheduled for Thursday, one topic is whether Greebel may ask for a separate trial.
The case is U.S. v. Shkreli, 15-cr-00637, U.S. District Court, Eastern District of New York (Brooklyn).
(
Corrects headline, story after court corrected mislabeled document.
)
Before it's here, it's on the Bloomberg Terminal.
LEARN MORE