Mnuchin Faces More Queries on China, Debt Before Senate Vote
By
Democrats resubmit some written questions to Treasury nominee

Confirmation vote pending responses, senate letter says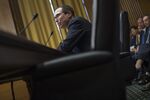 U.S. Treasury secretary nominee Steven Mnuchin is being asked to provide more clarity on how he will get tough on China, his stance on banking regulations and navigating the risks of the U.S. possibly defaulting.
Senate Democrats have resubmitted written questions to Mnuchin after finding his initial responses "were inadequate," Senator Ron Wyden of Oregon wrote in a letter dated Jan. 25 seen by Bloomberg. We "hope the nominee is able to respond thoroughly to this smaller list" before a panel vote, Wyden wrote in the letter to Utah Republican Senator Orrin Hatch, who chairs the Finance Committee.
Mnuchin submitted responses to the first round of written questions from senators in a 117-page document on Monday. While he answered most of the hundreds of questions carefully, some responses were brief and repetitive. Democrats are now seeking more comprehensive explanations on a range of topics including sanctions, regulations and taxes, according to a Senate aide who asked not to be named discussing internal deliberations.
"Follow-ups are consistent with the committee process and with past practice," said Julia Lawless, a spokeswoman for Hatch.
Read more: Mnuchin moves the dollar in his initial replies to the senate
One question resubmitted is about the tools Mnuchin would deploy as Treasury secretary to address the "unbalanced" trade relationship with China. Mnuchin's response to the question, from Senator Sherrod Brown of Ohio, notes the name of Judy Shelton, an economic adviser to President Donald Trump until he took office. Shelton, who attended part of Mnuchin's confirmation hearing last week, has previously published work making the case that the U.S. return to the gold standard.
Democrats are also awaiting further details on Mnuchin's views on the following issues:
If the Volcker Rule provides an essential "bright line" to protect banks with insured deposits against proprietary trading risks
Whether he supports reinstating the separation between commerce and banking activities
If he views any restructuring of U.S. debt as a default
His beliefs on climate change
Goals to offset tax cuts with economic growth
Navigating a situation where Trump uses his authority to lift sanctions on Russia without the backing of Congress
While Mnuchin can rely on the Republican majority in the Senate for confirmation, the Democrats had tough questions for the ex-Goldman Sachs banker, using his profiting from the 2008-09 housing crisis as ammunition to split Trump from his populist message. Mnuchin withstood the grilling -- saying he had done nothing wrong and giving insights on his policy views -- before the Senate Finance Committee last week, which lasted nearly six hours.
With the Senate out of session until Monday, Mnuchin's confirmation will be delayed until early February as he awaits a committee and then full Senate debate and vote. The Treasury Department last week named Adam Szubin as acting secretary. Szubin previously served as the department's acting undersecretary for terrorism and financial intelligence.
— With assistance by Gregory Mott
Before it's here, it's on the Bloomberg Terminal.
LEARN MORE