Mexico's President Cancels U.S. Visit as Trump Feud Deepens
By
Dispute over border wall may entangle negotiations on trade

Trump demanding Mexico pay for wall on U.S. southern border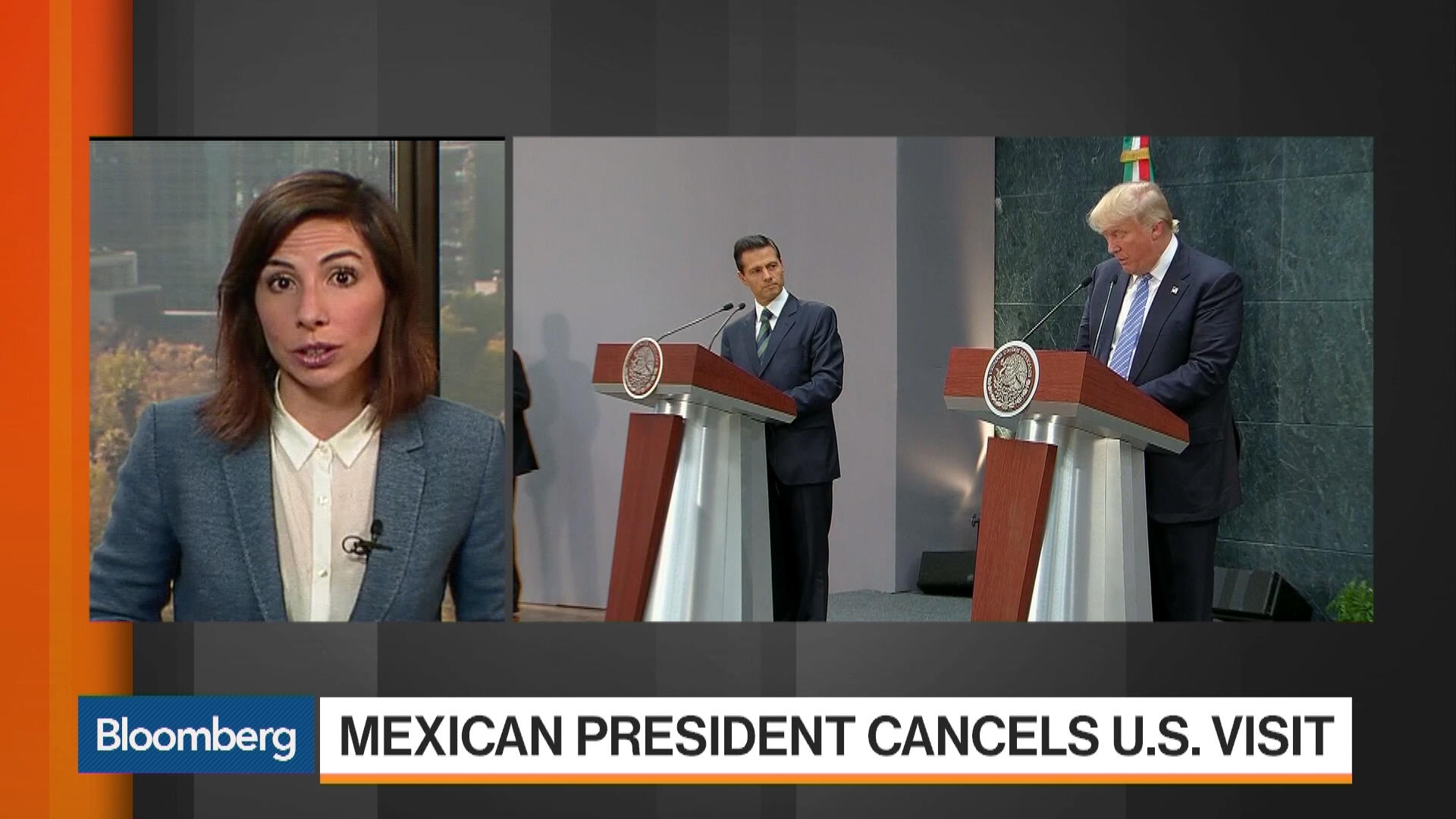 Mexico's President Enrique Pena Nieto canceled a meeting with U.S. President Donald Trump planned for next week as a dispute over Trump's border wall plan exploded into a showdown that threatens one of the world's biggest bilateral trading relationships.
Trump, hours later, characterized the scuttling of the meeting as a mutual decision between the two governments, even as he called Mexico disrespectful in its approach.
"Unless Mexico is going to treat the U.S. fairly, with respect, such a meeting would be fruitless and I want to go a different route," Trump said in a speech to Republican lawmakers at a retreat in Philadelphia Thursday afternoon.
His spokesman later said the administration was considering slapping a 20 percent tax on imports from Mexico to pay for the barrier, a move that threatens to add to tensions in the U.S.-Mexico relationship.
The dispute over the border wall and trade has become the first major foreign policy test for Trump, who took office on Jan. 20. The outcome has domestic political implications and economic consequences for both countries.
The conflict between Trump and Mexico, which had been building since the U.S. presidential campaign, came to a head over a 24-hour period as Trump signed a directive to initiate the process of building a border wall and the two leaders conducted a foreign policy exchange via Twitter.
After Pena Nieto said in an address Wednesday that his country would refuse to pay for a barrier on the U.S. southern border, Trump blasted him with a tweet Thursday morning. "If Mexico is unwilling to pay for the badly needed wall, then it would be better to cancel the upcoming meeting," Trump wrote.
Pena Nieto responded a few hours later with his own tweet: "This morning we've informed the White House that I won't attend the working meeting scheduled for next Tuesday with @Potus."
Read why Trump's talk of a border tax is taken seriously: QuickTake Q&A
The cross-border sparring prompted a drop in the Mexican peso, which fell 1.1 percent to trade at 21.29 per U.S. dollar following Pena Nieto's announcement. Mexico's currency has plunged almost 14 percent since Trump's election on concern that Trump will renegotiate or scrap the North American Free Trade Agreement. Peso-denominated government bonds have also taken a hit since the U.S. election, with the yield on benchmark bonds due in 2024 rising 1.43 percentage points to 7.53 percent as the peso's weakness led the central bank to hike interest rates.
Still Talking
Trump's spokesman, Sean Spicer, indicated the administration still wanted Pena Nieto to come to the U.S. "We'll look for a date to schedule something in the future," he told reporters. "We'll continue to coordinate."
In a second tweet, Pena Nieto also said the door wasn't closed to a meeting: "Mexico reiterates its willingness to work with the U.S. to achieve accords in favor of both nations."
Pena Nieto had been under domestic pressure to stand up to Trump, and that only intensified after Trump on Wednesday signed the directive on the wall. In his televised address on Wednesday, Pena Nieto said Mexico demanded respect as an autonomous nation even as it negotiates new trade rules with the U.S. 
"Hostile actions in Washington, such as the announcement of the construction of the wall, from our point of view, means that the U.S. doesn't want any collaboration from our side," Senator Armando Rios Piter of the Democratic Revolution Party said in a statement Wednesday.
Maryland Senator Ben Cardin, the senior Democrat on the Foreign Relations Committee, put responsibility for the rift on Trump.
"Less than one week after taking office, President Trump is already causing serious damage to one of our most important relationships in the world," Cardin said in a statement. "U.S. national security depends directly on cooperation with our neighbors."
Central Promise
Trump won office by making two central promises of his campaign the construction of a wall along the 1,989-mile border at Mexico's expense to halt illegal immigration and halting the shift of manufacturing jobs. He said in an interview on ABC Wednesday that construction could begin in a matter of months, though it would initially be funded by U.S. taxpayers.
But he may have to wrestle with members of his own party in Congress. Republican leaders have discussed spending $12 billion to $15 billion, but it's unclear whether that would pay for the wall Trump envisions. Republicans lawmakers also are debating Trump's plan for massive spending on infrastructure, expanding the military and cutting taxes while juggling their own pledges to address the national debt.
Spicer told reporters traveling with Trump that a tax on imports from Mexico could pay for wall construction.
"When you look at the plan that's taking shape now, using comprehensive tax reform as a means to tax imports from countries that we have a trade deficit from, like Mexico, if you tax that $50 billion at 20 percent of imports," Spicer said, "by doing that we can do $10 billion a year and easily pay for the wall just through that mechanism alone."
Trade Dispute
Also at issue is the Nafta accord among the U.S., Mexico and Canada. The U.S. and Mexico traded $531 billion in goods and services in 2015, almost five times the trade between the U.S. and U.K. Mexico is the third-largest trading partner with the U.S., following China and Canada, and it sends close to 80 percent of its goods to its northern neighbor.
But Trump has blamed the pact, which entered into force in 1994, for the loss of U.S. jobs. He's vowed to renegotiate the agreement while also pressuring U.S. companies, including automakers General Motors Co. and Ford Motor Co., to scale back plans for building plants in Mexico.
"It has been a one-sided deal from the beginning of Nafta with massive numbers of jobs and companies lost," Trump said in two tweets Thursday.
Mexico's Foreign Minister Luis Videgaray and Economy Minister Ildefonso Guajardo have been in Washington since Tuesday meeting with Trump administration officials to discuss the agreement.
Given just how much Mexico has benefited from the pact -- its annual trade surplus with the U.S. has soared to over $60 billion -- there's a sense that Videgaray has little leverage in the talks. In the past, they've signaled that they're prepared to broaden the accord to include industries like internet commerce and energy.
"Negotiations are paralyzed," said Jose Antonio Crespo, a political analyst at the Center for Economic Research and Teaching in Mexico City. "It's clear that Trump made this decision, because he imposed conditions that are unacceptable."
— With assistance by Justin Sink, Eric Martin, and Margaret Talev
Before it's here, it's on the Bloomberg Terminal.
LEARN MORE