U.S. Stocks Slip, Treasuries Climb as Oil Drops: Markets Wrap
By
Economic growth slower than forecast as trade, spending drag

Banking stocks retreat as UBS reports drop in margins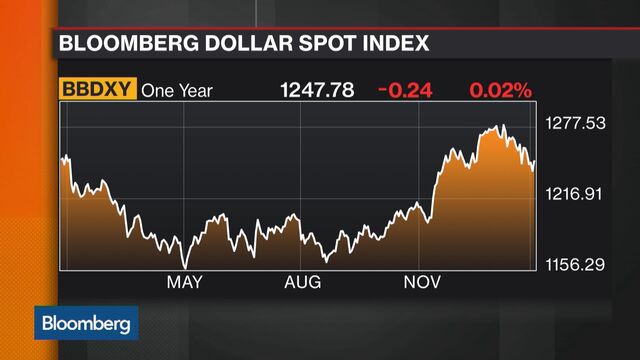 The dollar weakened, while Treasuries advanced after data showed U.S. economic growth cooled last quarter, giving investors little reason to add to reflation trades that have set the tone on markets since Donald Trump's election. American equities were little changed near all-time highs amid earnings.
The S&P 500 Index finished 0.2 percent from its record set Wednesday. Microsoft Corp. and Intel Corp. advanced, while Starbucks Corp. slumped after reporting results. The greenback capped a fifth weekly slide after gross domestic product rose at a slower pace than forecast. The yen weakened as Japan's central bank stepped in to buy debt. Ten-year Treasury yields fell below 2.50 percent. The Mexican peso strengthened even as souring relations with the U.S. pushed the countries closer to a trade war. Gold headed for its longest slump in three months.

While the GDP report gave investors little reason to add to investments in the dollar and American equities, the strong job market and optimism among consumers and companies for the administration's policies are likely to keep growth humming along in 2017. Markets have largely ignored the implications of growing tensions between the U.S. and Mexico even as one of the world's largest bilateral trade agreements comes under fire.
Here's what's coming up next week:
As Trump seeks to redraw the trade map, investors will digest a spate of earnings in the coming week. Apple Inc., Facebook Inc. and Amazon.com Inc. are among the major companies due. Of the 168 S&P 500 names to report so far, 74 percent have topped profit estimates. The first jobs report of the year will come Feb. 3.
Investors will also get a reminder that central banks still set the tone for the global economy, even as fiscal policies have captured the headlines of late. The Federal Reserve holds a policy meeting Feb. 1 and the Bank of Japan convenes. Neither is expected to change lending rates, though the Fed's statement will be parsed for any reading on Trump's impact on the world's largest economy.
Markets in China will be closed until Feb. 1 for the Lunar New Year celebration.
Read our Markets Live blog here.
Here are the main moves in markets Friday:
Stocks
The S&P 500 slipped 0.1 percent to 2,294.50 at 4 p.m. in New York. It rose 1 percent in the week and closed Wednesday at a record.
Alphabet Inc. slipped 1.4 percent after profit missed estimates, while Microsoft rose 2.4 percent and Intel added lost 0.6 percent as results topped expectations.
The Stoxx Europe 600 fell 0.4 percent following three days of gains. The measure rose 1.1 percent in the week.
UBS Group AG damped a rally in European stocks on Friday by reporting that profitability of its wealth management business declined for a third straight quarter.
Currencies 
The Bloomberg Dollar Spot Index fell less than 0.1 percent. The measure is down 0.6 percent for the week in its longest slump since February, and it's off by 1.6 percent so far in 2017.
The pound slipped 0.3 percent, paring its gain in the week to 1.4 percent weekly gain. The yen slid 0.5 percent and the euro was little changed.
The peso climbed 1.6 percent after earlier falling as much as 0.5 percent.
The Turkish lira fell 1 percent and is down 3.2 percent for the week.
Bonds
The yield on 10-year U.S. Treasuries fell two basis points to 2.48 percent.
German bonds due in a decade halted a three-day slide, pushing the yield to 0.46 percent.
Japanese 10-year yields were little changed at 0.08 percent. The BOJ boosted the amount of 5-to-10-year bonds it buys in its outright purchase operations, underscoring a commitment to keep its yield-curve target.
Commodities
Gold futures fell 0.1 percent to settle at $1,191.10 an ounce, the lowest price in more than two weeks. It's fallen four straight days in the longest slump since November.
West Texas Intermediate crude fell from a three-week high, losing 1.2 percent to settle at $53.17 a barrel. It surged 2 percent Thursday on optimism that OPEC and other oil-producing nations would adhere to their pledged output cuts.
— With assistance by Jeremy Herron, Natasha Doff, Eddie Van Der Walt, Stephen Kirkland, Jeff Sutherland, David Goodman, and Garfield Clinton Reynolds
Before it's here, it's on the Bloomberg Terminal.
LEARN MORE