Jack Ma Not Making It Easy for Western Union as Shares Slide
By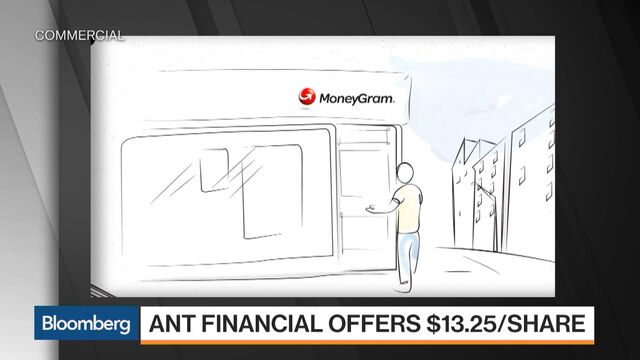 Western Union Co.'s worst month in two years just got significantly worse, courtesy of Jack Ma.
The Englewood, Colorado-based money-transfer company, its stock stuck in an eight-day skid amid admissions it failed to stop money laundering, tumbled anew Thursday after Alibaba Group Holding Ltd.'s Ant Financial agreed to acquire rival MoneyGram International Inc. for $880 million.
Shares of Western Union fell 2.4 percent to $19.59, the lowest close in more than six months. More than $1.4 billion has been lopped from its market value since Jan. 6, when shares reached a nine-year high. Its 9.8 percent slide since Dec. 31 is poised to be the biggest monthly drop since January 2014. MoneyGram climbed as much as 11 percent to the highest since September 2014.
The tie-up may also put pressure on Kansas-based Euronet Worldwide Inc., which offers money transfer services and payment processing technology, said SunTrust Robinson Humphrey Inc. analyst Andrew Jeffrey in a note to clients.
"More competitive pricing poses a greater relative risk to Western Union than to Euronet, considering the former's larger global footprint and duopoly status with Moneygram in many global corridors," Jeffrey wrote.
MoneyGram and Western Union have long been the dominant players in the global remittance industry, but have been battling heightened competition from cheaper digital alternatives such as PayPal Holdings Inc.'s Xoom, WorldRemit and TransferWise.
While the sector already faces concerns around President Donald Trump's immigration stance, JPMorgan Chase & Co. analyst Tien-tsin Huang has noted that Western Union and MoneyGram are actually benefiting in the short term. Remittances to Mexico rose 25 percent in November from the prior year versus a 7.1 percent increase the month before.
As of yesterday, MoneyGram's stock had climbed 89 percent since Chief Executive Officer Alex Holmes took the reins in January 2016. That compares with Western Union's 12 percent climb and the 28 percent advance of the Russell 2000 Financial Services Index. Holmes said after his appointment that the firm was open to "any structural organization change" and would consider doing acquisitions.
— With assistance by Jennifer Surane
Before it's here, it's on the Bloomberg Terminal.
LEARN MORE