quicktake
How Trump's Wall Makes Nafta Talks Even Thornier: QuickTake Q&A
By and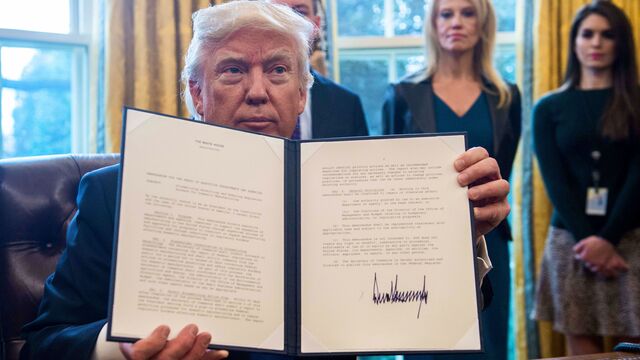 The North American Free Trade Agreement was negotiated 25 years ago and has been a lightning rod for criticism ever since. Even as the U.S., Canada and Mexico were finalizing the deal in 1992, Ross Perot warned of a "giant sucking sound" that would drag American jobs into the land of the peso. Now President Donald Trump, in some ways the inheritor of Perot's insurgent political movement, vows to get the deal rewritten, or else. Exactly what changes he seeks is as yet unclear. So is whether Mexican President Enrique Pena Nieto will open talks as long as Trump promises a border wall built on his nation's tab.
1. What does the U.S. want?
Trump has derided Nafta as the "single worst trade deal" in U.S. history but has been light on specifics. He told reporters on Monday that the U.S. will be "tweaking" the deal with relation to Canada but will seek to remedy "an extremely unfair" trade relationship with Mexico, pledging to strike "a fair deal for both parties." He's said that renegotiation should begin with immigration and border security, though those are peripheral issues to the agreement. His biggest concern seems to be the shift of jobs, especially in the auto industry, to south of the border. He's threatened a 35 percent tax on General Motors Co. and Toyota Motor Corp's imports, which would be barred under Nafta as currently written but would make moving jobs to Mexico less profitable for companies.
2. What does Mexico want?
Mostly, Trump's message has been met with calls to preserve the virtually tariff-free trading under Nafta. Plus Mexico wants no part of a border wall, much less the bill for one.
3. Can Trump pull the U.S. from Nafta?

Yes, by invoking Article 2205 of the agreement, which requires six months' written notice to the other parties. 
4. What would happen then?
U.S. tariff levels for Mexico would revert to those dictated by most-favored-nation status at the World Trade Organization -- assuming Trump doesn't pull out of that as well. That tariff on Mexican goods might be small enough to be offset by the peso's recent depreciation. For the U.S. and Canada, they would go back to the levels agreed to in a bilateral trade deal that took effect in 1989. Trump could raise tariffs temporarily by citing the Trade Act of 1974, but such an action probably would provoke an immediate challenge by Mexico or Canada at the WTO.
5. Is Trump likely to withdraw?
Probably not. Withdrawing could upset supply chains in the deeply integrated North American economy, resulting in a loss of U.S. jobs and higher costs for American consumers. It's more likely Trump is using the threat of withdrawal as a ploy to make Mexico and Canada give up more in a Nafta renegotiation.
6. Would changes need legislative approval?
Probably yes, which could pose a problem in the U.S. While past presidential administrations have negotiated minor adjustments on their own, the U.S. Congress has been advised that "major changes" can be made only with its assent. Nafta barely passed Congress in 1993 in a much less contentious environment for trade and required a Democratic president, Bill Clinton, to corral Republican House votes. Trump has one advantage: fast-track authority granted by Congress in 2015, which he could use to submit a renegotiated pact to Congress for an expedited, up-or-down vote without amendments.
7. Could Mexico pull out of Nafta?
Theoretically, yes. But only if the Trump administration makes the terms of Nafta so arduous that they would hurt the nation's interests would Mexico pulling out become a likely option, said Francisco de Rosenzweig, the nation's Trans-Pacific Partnership negotiator, who left the government last year and now works for the law firm White & Case.
8. Where do U.S.-Mexico relations go from here?
Tensions between the two nations haven't been this high since the 1920s and 1930s, when U.S. President Calvin Coolidge threatened to invade Mexico, which later expropriated U.S. oil assets. Though Trump and Mexican President Enrique Pena Nieto have left the door open to meet at a later date, it's unclear if they ever will as long as Trump demands Mexico agree to pay for a border wall.
9. Where does Canada fit in?
Canada's relatively balanced trade with the U.S. means it's likely be a spectator to the U.S.-Mexico showdown, and Canadian officials mostly worry about collateral damage Trump adviser Stephen Schwarzman of Blackstone Group LP flew to Calgary to reassure Canadian Prime Minister Justin Trudeau that Canada isn't a primary target.
The Reference Shelf

— With assistance by Theophilos Argitis
Before it's here, it's on the Bloomberg Terminal.
LEARN MORE