German Media Giant Betting on Ink and Paper as E-Books Falter
by
Bertelsmann mulls buying Pearson out of publishing venture

"The book market is in much better shape" than many expected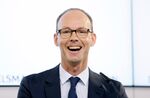 Remember books — you know, those things printed in ink on paper? They've been killed by the advent of e-readers such as the Amazon Kindle, right? Nope. Sales of physical books have risen for the past three years in the U.S., and Thomas Rabe sees big profits in selling them. Publishing "is and will remain one of our strategic core businesses," says the chief executive officer of Bertelsmann, a German conglomerate founded in 1835 as a printer of church hymns that today employs 117,000 in TV, magazines, education, and more.
Rabe is poised to boost his 53 percent stake in Penguin Random House after partner Pearson said it plans to sell its 47 percent share. The two companies in 2012 merged their publishing assets to gain more clout with the likes of Amazon.com, Apple, and Google. Penguin Random House, the world's No. 1 book publisher, in 2015 increased sales to 3.7 billion euros ($4 billion) from 2.7 billion euros in 2013. That's thanks to its foothold in fast-growing markets such as India and blockbusters like Paula Hawkins's thriller "The Girl on the Train" and E L James's "Fifty Shades" series. Profits at the publisher in 2015 jumped by more than half from the year before, to 557 million euros, and Pearson's stake could fetch $1.5 billion, Liberum Capital estimates.
Pearson announced the sale on Jan. 18 as it acknowledged major challenges in its biggest business, U.S. higher education, after months of optimistic forecasts from CEO John Fallon. College enrollments and textbook sales have proved weaker than expected, spurring him to seek ways to shore up the balance sheet. The bad news triggered a sell-off at Pearson — its shares lost a quarter of their value, their worst day ever — and put Fallon's job in jeopardy. Offloading Penguin Random House would be the company's third A-list divestment since 2015, when it sold the Financial Times and its stake in the Economist Group. 
Fallon failed to build "a working model that is suitable for current times," says Stephen Williams, an analyst at fund manager Brewin Dolphin.
While Bertelsmann, controlled by Germany's billionaire Mohn family, hasn't laid out any specifics, Rabe says he's interested in buying out Pearson. "We will do everything to guide this business to further growth," he says. A purchase would follow Rabe's pattern of increasing his commitment to what he sees as key industries. In 2014 he bought the 25 percent of German magazine publisher Gruner + Jahr that Bertelsmann didn't own, ending a 45-year-old partnership with the Jahr family. A year earlier, Bertelsmann took over full ownership of music publisher BMG Rights Management from private equity house KKR.

Doubling down on books would represent a big bet on an industry that just a few years back was being written off as an analog dinosaur stumbling through the digital jungle. If you look at data since the turn of the century, with the rise of digital titles, audio books, and self-publishing (which cuts out the likes of Penguin Random House), there's cause for concern. Publishers' revenue has been largely unchanged this decade, and the information from book categories that were once big moneymakers — think dictionaries, encyclopedias, and atlases — can now be accessed online for free. Yet books still produce healthy margins for giants that benefit from economies of scale as they churn out hits from best-­selling authors. Penguin Random House, which owns 250 publishers on five continents, released five of the 10 best-selling print books in the U.S. last year. 
"The book market is in much better shape than people predicted five years ago," says Liberum Capital analyst Ian Whittaker.
Although Penguin Random House's audiobook titles and 115,000 e-books help boost its value, they're less important than many in the industry expected. Global sales of e-books will account for less than a quarter of industry turnover in 2020, even as revenue from physical books remains largely unchanged, hovering at about $46 billion for the next three years, according to consulting firm PwC. In the U.S., though, the shift away from physical books is reversing as e-book prices rise. U.S. e-book sales fell 20 percent in the first half of last year, while paperbacks and hardcovers jumped 4.8 percent, to $2 billion, according to the Association of American Publishers. 
Seema Shah, an analyst at Bloomberg Intelligence, predicts those trends will continue as consumers again seek the ease and comfort of simply opening up a title and reading. Moreover, some categories — such as children's books and coffee table books — can't easily be digitized, she says. "E-books today are just another format, like paperbacks," Shah says.
Sarah Simon, an analyst at Berenberg Bank, says Bertelsmann should proceed with caution. The company already controls Penguin Random House, so spending more on a largely analog asset runs counter to the company's goal of expanding its digital businesses, she says. Simon also says Bertelsmann's $6.8 billion in debt may force Rabe to seek a partner, which could be "quite a challenge."
Rabe says he's ready to take the plunge, provided the price is "fair." Penguin Random House's combination went smoothly and created significant synergies, he says, and investing would strengthen Bertelsmann's foothold in the U.S., its second-largest market. "We have been writing an entrepreneurial and creative success story since 2012," Rabe says. "And we will continue to write it."
Before it's here, it's on the Bloomberg Terminal.
LEARN MORE