business
Brexit Bulletin: Hug Trump Close
It's time for a new edition of the famous "special relationship."
By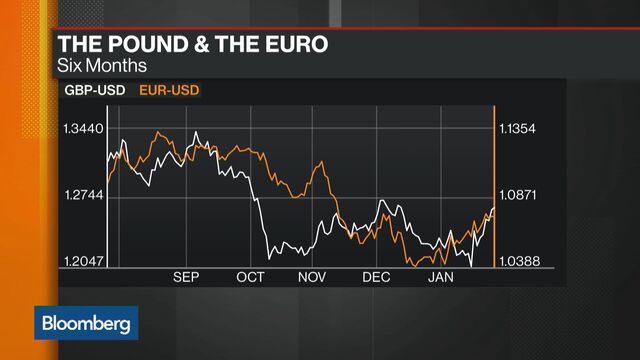 Sign up to receive the Brexit Bulletin in your inbox, and follow @Brexit on Twitter.
"Hug them close" Bill Clinton told Tony Blair about what to do when George W. Bush entered the White House in 2001.

U.K. Prime Minister Theresa May seems to be heeding the same advice as she travels on Thursday to the U.S. to become the first foreign leader to meet President Donald Trump. She goes hoping to lay the groundwork for a trade deal.
"We have the opportunity to lead, together, again," May will tell a meeting of Republican lawmakers in Philadelphia.
Commitment to a trade agreement would allow May to claim Britain can prosper after Brexit and give her leverage over European leaders when she comes to discuss commerce with them. Trump could use such a promise to drive a wedge into a fractured Europe and rebuff accusations he's a protectionist as he exits the Trans-Pacific Partnership and prepares to recast Nafta.
May will give Trump a hamper of produce from her official country residence and an engraved quaich, a traditional Scottish cup for drinking whiskey, which symbolizes friendship. While Trump has Scottish ancestry, he's a teetotaler.
Prospects for a Deal?
So how easy will it be for May and Trump to turn words on trade into action? Not very, according to Gregor Irwin of Global Counsel, who lists several reasons why he doesn't think a quick, well-rounded deal is in the offing:
The U.K. can't sign a deal until it leaves the EU. Cozying up to Trump could antagonize Europe just as Brexit talks begin, leading to a bad break. Britain exports more to the EU than to the U.S., so it has to tread carefully.
Washington trade negotiators may prefer to wait until Britain has sorted out the terms of its World Trade Organization membership. As Bloomberg's Jonathan Stearns reports, that might not be simple.
The U.S. uses Britain as a link to the EU so may prefer to wait to see what access the U.K. wins to that market first. Britain may also be constrained in what it can offer the Americans on things like regulatory standards if it also wants to nail an EU pact.  
America may want the U.K. to cede some sovereignty over regulatory barriers to trade.
Bloomberg's Tim Ross reports on another obstacle: British officials are worried they currently lack enough expert trade negotiators for any talks. The disclosure prompted warnings that May's inexperienced and understaffed team could be out-maneuvered in transatlantic discussions.
The BBC reports existing civil servants are even having to be given training in trade talks. On the bright side, Spanish Foreign Minister Alfonso Dastis tells the Financial Times that EU negotiations over commerce with the U.K. should start early.
Parliament Gets Into Gear
Back in Britain, the government published the bill to seek lawmakers' approval to start Brexit talks. 

137 words long including the title, the passing of it would allow May to file for divorce from the EU by invoking Article 50 of the Lisbon Treaty.
The government's aim is to have it pushed through the House of Commons in two weeks so May can still trigger the start of talks by the end of March. The first debate will be on Tuesday.
It's short so as to reduce the risk of being dragged down by amendments. The opposition Labour Party said on Thursday it wants to force May to update Parliament on her progress every two months.
Economy Motors On (For Now)
The economy again produced a stellar performance in the wake of the Brexit vote, growing 0.6 percent in the fourth quarter of last year.
While stronger than forecast, the question is whether such a pace can be maintained given the expansion is largely reliant on services and borrowing-fueled consumer spending. Inflation may soon start to eat away at incomes, with restaurant owner Whitbread signaling Thursday that it's feeling the pinch.
"We are in uncertain times economically and politically," said Alison Brittain, chief executive officer. "It's always difficult to predict where consumer confidence will go this year, what will happen in terms of the political landscape, what the inflationary change will be." 
Banks Eye Ireland
Credit Suisse is exploring options for expanding in Dublin as Brexit looms, Bloomberg's Sharon Smyth, Peter Flanagan and Dara Doyle report.
The Irish capital is emerging as a favored location for the bank's so-called back-office jobs, according to a person familiar with the matter, who asked not to be identified because a final decision hasn't been made. 
Meantime, German regulators will meet bankers on Monday to answer questions about relocating operations to Frankfurt, while Banco Santander Chairman Ana Botin told Bloomberg TV that the bank is "absolutely, totally" committed to London.
On the Markets
May's clarity is being rewarded in foreign exchange markets.
The pound rose to a six-week high against the dollar after she agreed to publish the white paper, and a gauge of swings in its value fell to its lowest in more than a month.

In the longer-term, Jordan Rochester of Nomura suggests the pound could suffer if banks shift jobs abroad. He estimates if around 10 percent of financial activity by foreign institutions is relocated abroad there would be £25 billion of outflows from the U.K. That would double if domestic firms also shift.
Brexit Bullets
And Finally?
Law firm Clifford Chance this week suggested that the House of Lords could delay Brexit until 2020 if its members chose to add multiple amendments to the Article 50 bill.
It's not impossible. May's Conservatives lack a majority in the upper house and 102 of its members are Liberal Democrats, whose leader is calling to vote against triggering Brexit.
It's still unlikely. Francis Maude, a member of the House of Lords and a senior adviser to law firm Covington & Burling, said if unelected politicians frustrate the government it will be seen as an attack on democracy and could strengthen calls for the end of the chamber.
"It's technically possible, but not likely unless the House of Lords has a death wish," he said. "It would be an act of self harm."
For more on Brexit follow Bloomberg on Twitter, Facebook and Instagram, and see our full coverage at Bloomberg.com
(
Corrects name of law firm in "And Finally" section to Covington & Burling.
)
Before it's here, it's on the Bloomberg Terminal.
LEARN MORE