Another Term for BOJ's Kuroda Is an Option, Abe Adviser Says
By and
Kuroda doing a 'terrific job' at BOJ, Etsuro Honda says

Continuity in policy necessary for Abenomics, Honda says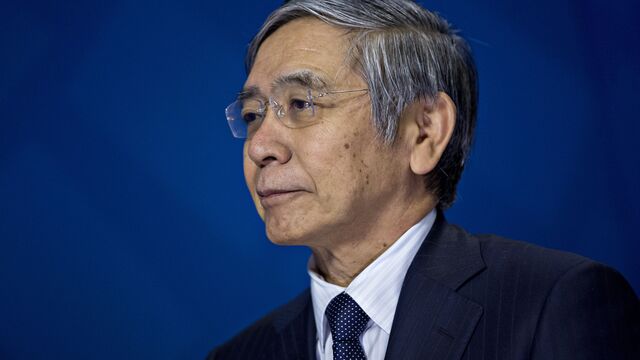 Tapping Bank of Japan Governor Haruhiko Kuroda for another term early next year is an option because of the need for seamless policy continuity, an economic adviser to Japanese Prime Minister Shinzo Abe said.
"Kuroda is doing a terrific job," Etsuro Honda, one of the architects of Abenomics, said in an interview on Wednesday. "I just met him in Davos. Kuroda is lively. He uses English without a problem. He is very admirable. I don't think his age is a problem."
While Honda made it clear the choice is Abe's, he emphasized that the prime minister needs to choose someone who can carry on what Kuroda has done, given monetary policy's key role in the efforts to reflate the economy. Honda has said he helped choose the current BOJ leadership when Abe was undertaking regime change at the central bank in 2013.
"All of the efforts we have made so far would be in vain if we have someone with different thinking" directing BOJ policy, said Honda, speaking on the phone from Switzerland, where he serves as Japan's ambassador. "We must keep the current policy stance unchanged to absolutely avoid that."
The 72-year-old Kuroda's five-year term ends in April next year. His radical monetary policy program launched in 2013 has been the core of Abenomics, and initially stirred hopes for an economic revival after years of stagnation. Kuroda later expanded the unprecedented quantitative easing program, adopted negative interest rates and then shifted to a yield-curve control program.
Read More: Abenomics Shocks Japan to Rescue Economy: QuickTake
While the BOJ has failed to achieve its 2 percent inflation target -- which he promised would be hit in about two years -- the Nikkei 225 Stock Average has risen about 90 percent since Abe took office in December 2012 and the yen's 25 percent depreciation has inflated corporate profits to record levels.
Kuroda has declined to comment when asked about the possibility of serving another term, saying it's up to the government.
No other BOJ governor has been reappointed for a second full term since the Bank of Japan Law was revised two decades ago, establishing the current framework of the policy board.
Still, seven of 17 economists in a Bloomberg survey this month named Kuroda when asked to list potential candidates for the next governor. Four named Takatoshi Ito, an economics professor at Columbia University, and four named Honda.
Asked about whether he himself could be appointed governor, Honda said he wouldn't advise Abe to choose him.
Read More: 'Mr. BOJ' Is Shaping Policy Behind the Scenes
Honda said "one litmus test" for candidates for BOJ governor would be their attitudes toward raising the sales tax. A person who is aggressive about a sales-tax increase doesn't understand that efforts to reflate the economy must also include fiscal policy, said Honda, who twice has convinced Abe to postpone a sales-tax increase.
"I think such a person is inadequate to be governor," he said.
The terms of board members Takehiro Sato and Takahide Kiuchi, both staunch dissenters on Kuroda's policies, end in July this year, while those of Deputy Governors Kikuo Iwata and Hiroshi Nakaso expire in March next year. The departures will give Abe a chance to solidify his reshaping of the policy board.
Before it's here, it's on the Bloomberg Terminal.
LEARN MORE