business
Your Evening Briefing
Here are today's top stories.
Bloomberg News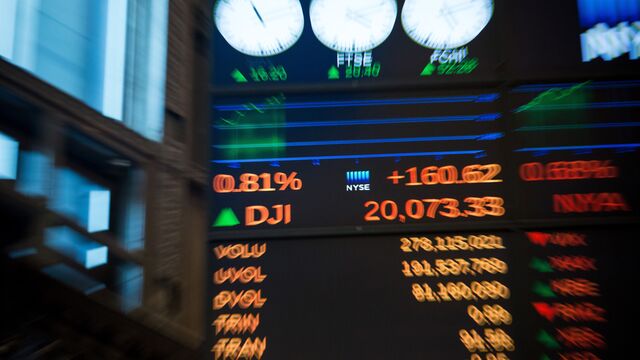 "Siri, find me a new job." Siri laughs. The coders who program Siri and other virtual assistants are in the highest demand in the online job market. (Freelancers who know natural language processing earned an average of $123 per hour, according to data from last quarter.)
If you're not a coder, you could brush up on those Instagram skills—Instagram marketing placed No. 6 on the list of fastest-growing skills online. Or you could just move to Florida. —Megan Hess
The Dow topped 20,000 for the first time this morning as stocks around the world extended a rally after corporate earnings reignited investors' optimism in economic growth. It was the second-fastest 1,000-point trip in its history. For anyone who saw Brexit or Trump as the bull market's death knell and sold, the rally since Election Day highlights a principal danger of investing: bailing too early.
Look to Siri for job inspiration. Engineers who program computers to understand human speech—a.k.a. natural language processing—saw U.S. demand for their labor grow faster than workers with any other skill, according to data from last quarter compiled by Upwork. Take a look at the other fastest-growing skills in the online job market.
Wall Street is hiring … in Florida. Transplants from New York may feel at first like aliens in Jacksonville, Fla., but their numbers are growing. Global financial companies have been moving execs there and hiring locally, even while paring staff elsewhere. It's part of a Wall Street trend known as nearshoring.
A "major investigation" based on a claim without evidence. President Trump said on Twitter that he would request a major investigation into voter fraud during the 2016 election, which he won in the Electoral College despite losing the popular vote by almost 3 million ballots. He has not provided any credible evidence to back up the claim and didn't say whether he had already issued such a directive.
In other Trump news, the president signed directives to set in motion construction of border reinforcement and toughening immigration enforcement. He's also asking U.S. automakers to invest in domestic manufacturing at a bad time: Economic gains from building new assembly plants are being undercut by automation and pressure to compete with lower-wage countries, including Mexico.
The end of terrible Wi-Fi is near. Just when you thought wireless internet was unfixable, the most boring and hated appliance in your house may be on the verge of actually working. A review of four newly released devices that employ the latest home-wireless technologies showed impressive results.
Where to feast for the Chinese New Year. The Year of the Rooster will be celebrated around the world from Jan. 27 to Feb. 2, and it's not all about noisy spectacles with firecrackers and lion-dancing. Bloomberg Pursuits rounded up some great restaurants to welcome the new year, from Singapore to London to New York.

Before it's here, it's on the Bloomberg Terminal.
LEARN MORE