Valls's Last Chance to Stop Rebel Threat to His French Campaign
By
Former premier to attack Hamon plan for universal income

Polls show Socialist nominee faces first-round elimination
Former Prime Minister Manuel Valls has one last chance to save his French presidential bid on Wednesday night when he tackles the party dissident set to claim the Socialist nomination in a televised debate.
Valls intends to hammer away at 49-year-old Benoit Hamon's proposal for a universal basic income as he seeks to turn around a five-point deficit in Sunday's run-off for the nomination. Hamon resigned from Valls's government in 2014, claiming it had abandoned Socialist principles. Valls, 54, used an interview with France Info radio Tuesday to paint his rival's platform as too leftist and unrealistic.
"Voters have a clear choice between two concepts of society, between a culture of work and credible government finances, or a society that wants to abandon the dignity of work, a society of taxes and debts," Valls said.
Hamon took 36 percent of the vote in the first round last Sunday, with Valls second on 31 percent. Hamon was further strengthened by the endorsement of third-placed Arnaud Montebourg, who took 19 percent.
"Valls faces a very hard challenge," Bruno Cautres, a professor at Sciences Po Institute in Paris, said in an interview. "The momentum is clearly with Hamon." 
Socialist Decline
Whoever wins is unlikely to be France's next president. Polls suggest the Socialist candidate will finish a distant fourth or fifth in the first round of the presidential election on April 23, with nationalist Marine Le Pen and Francois Fillon from the center-right Republicans going through to the May 7 runoff.
Valls would take 10 percent in the first round, according to an Ipsos Sopra Steria poll. Hamon would garner just 7 percent as more moderate Socialist voters defect to independent Emmanuel Macron. Only 1.6 million voted in the Socialist primary, compared with 4 million in the Republicans' primary. Supporters were turned off by the record unpopularity of President Francois Hollande, who announced late last year that he wouldn't seek re-election.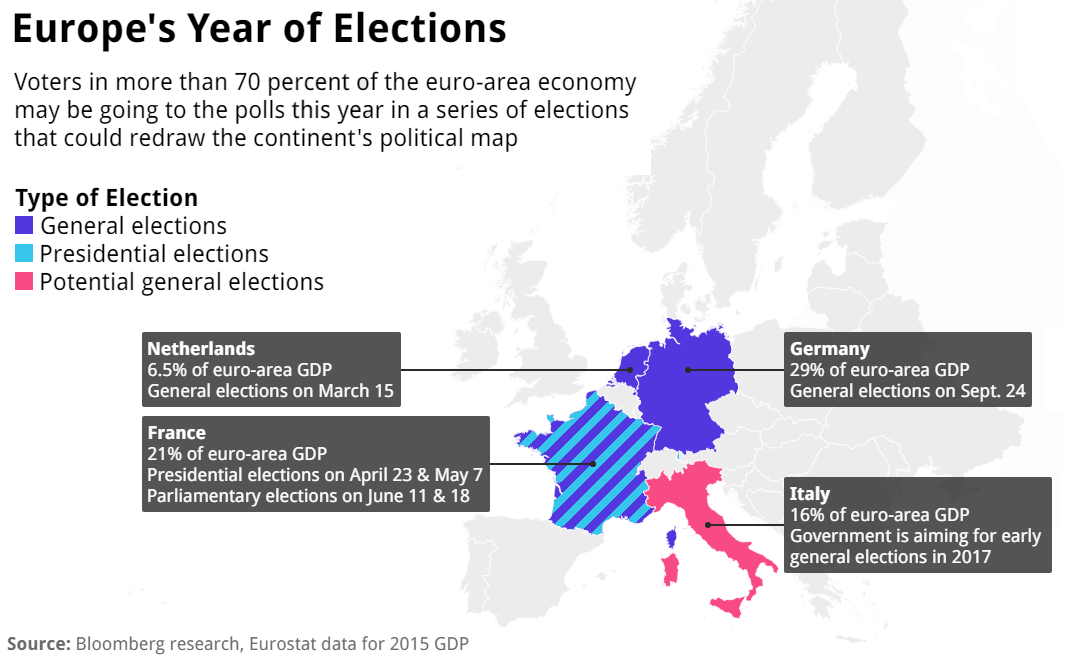 Hamon's signature initiative is a basic income of 750 euros ($800) a month for all citizens, which he says will help alleviate poverty and make up for a shortage of work as the economy progressively automates. His first-round victory elevated the idea from academic debate to make it a major issue in the French presidential campaign. It is already being tested in some limited areas of Canada and Finland.
Hamon says he would introduce the policy gradually, though he's been less clear on how to finance it -- one proposal is taxing robots used in factories.
A study by OFCE, an economics research unit linked to Sciences Po, said the measure would cost a net 480 billion euros a year, after accounting for various existing welfare payments it would replace. That's equal to 22 percent of gross domestic product, in a country where taxes already account for 45 percent of economic output. Among 35 rich countries tracked by the OECD, only Denmark has a higher tax take.
"There is a certainly a rationale for replacing existing unemployment and poverty programs with one simple payment, but the big question is how is it financed," said Zsolt Darvas, a senior fellow at Bruegel, a Brussels-based research institute. "The taxes that would be required are just not feasible."
Divided Party
Hamon has also called for banning diesel cars and decriminalizing cannabis, and has been more accommodating than Valls about accepting pious Muslim practices. Valls's campaign has focused more on law and order, middle-class tax cuts, and controlling the government's budget deficit.
The two men don't get on. In his interview on Tuesday, Valls wouldn't even commit to endorsing Hamon should he win, despite that being a condition of taking part in the primary. Hamon's campaign director Mathieu Hanotin said at press conference Tuesday that he'll endorse Valls should the former premier pull off a comeback.
Some major Socialist figures are backing Macron, another former Socialist minister who quit the government last year to mount his own run for president. Others are expected to follow.
Hollande didn't watch the final debate before the first round, going to the theater instead, and he wasn't in France for the result, due to an official trip to Colombia and Chile.
— With assistance by Andre Tartar
Before it's here, it's on the Bloomberg Terminal.
LEARN MORE