U.K. Economy's Brexit Success Still Has Companies Fretting
By
Rising inflation, prolonged uncertainty set to damp growth

EasyJet, BT among companies concerned about the outlook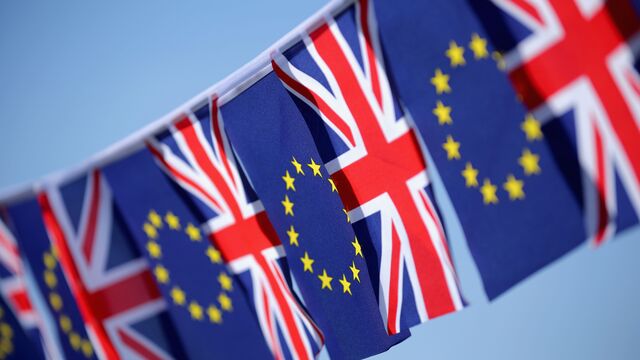 The U.K. economy may have cleared its 2016 Brexit test, but that's not easing companies' concern about the approaching challenges.
Days before figures are predicted to show a healthy 0.5 percent expansion in the last quarter of 2016, businesses from airline EasyJet Plc to telecommunications firm BT Group Plc cited Brexit-linked problems such as a weaker pound and loss of business as they offered investors a forbidding outlook for this year.

The warnings are in stark contrast to the U.K.'s performance since the vote in June to leave the European Union, which has seen the economy defy gloomy predictions and maintain its momentum. Much of the strength has been driven by the services sector and consumer spending. That will come under strain in 2017 as the pound's drop pushes up inflation, squeezing Britons' pockets.
"We see things changing this year," said Chris Hare, an economist at Investec and a former Bank of England official. "Economic uncertainty is still at elevated levels, particularly with fears of a hard Brexit, and the effects of the post-referendum fall from the pound are really going to kick in."
WH Smith Plc said on Wednesday the referendum hasn't hurt sales so far and that "Five Go to Brexit Island," a parody of Enid Blyton's Famous Five Novels, was its biggest seller in bookshops last year. While the company benefited from the pound's drop, it also said it's "really well hedged" for the coming year.
BT Chief Executive Gavin Patterson said Tuesday that headwinds are proving tougher than anticipated and it isn't getting enough new business right now to fully replace contracts that are ending. Maintenance and cleaning firm Mitie Plc last week issued its third profit warning since September, saying it had been "impacted by client deferrals and investment plan delays."
Economists surveyed by Bloomberg see U.K. growth slowing through 2017 and expect full-year expansion of 1.2 percent, down from the 2 percent expected for 2016. The quarterly pace may drop to 0.2 percent starting in the three months through June.
Clarity Sought
Prime Minister Theresa May set out her Brexit priorities last week, including a withdrawal from the bloc's single market, a move that some say could be damaging for the economy. Since then, the U.K.'s highest court ruled that she must seek the permission of Parliament to trigger the exit process, giving lawmakers an opportunity to soften the government's stance.
Mike Hawes, CEO of the group representing Britain's automotive industry, told lawmakers on Tuesday that while May's speech provided a "degree of clarity," investment declined over the last year with car makers sitting on big spending decisions. Oxford Economics said the same day that leaving the EU "adds to gloom over long-term growth prospects," citing an expected reduction in immigration as well as less certainty on capital spending and foreign investment.
Pound Decline
Regardless of the new relationship eventually forged, the pound's 16 percent fall since the referendum is already starting to feed into prices. Retail sales dropped unexpectedly in December, which economists said may mark the beginning of a trend likely to shape 2017 of higher prices curtailing spending.
A report on Wednesday showed that factory orders increased in January at the fastest pace since early 2015. But it also highlighted the currency fallout, saying costs have "risen considerably and are expected to build."
EasyJet also cited the pound this week, blaming fluctuations for a 15 million-pound downgrade to its profit guidance. The company sees U.K. demand recovering this year as customers adjust to the new exchange rate, and is due to decide on an EU state where it will apply for operating rights allowing it to continue flying intra-continental routes after the U.K. quits the single market.
As companies plan, the country is still waiting for May to formally trigger exit talks. That's due to happen by the end of March, kicking off two years of divorce proceedings.
"It is going to be a tricky process," Anthony Browne, CEO of the British Bankers Association, said on Bloomberg Television. "'Getting a new partnership agreement between the U.K. and the EU is going to be complicated. What we want is as much order and certainty as possible."