Trump's Family Business Gets Two New Ethics Overseers, Source Says
By and
Washington attorney and Trump Organization veteran tapped

Pair assigned to vet deals for separation from administration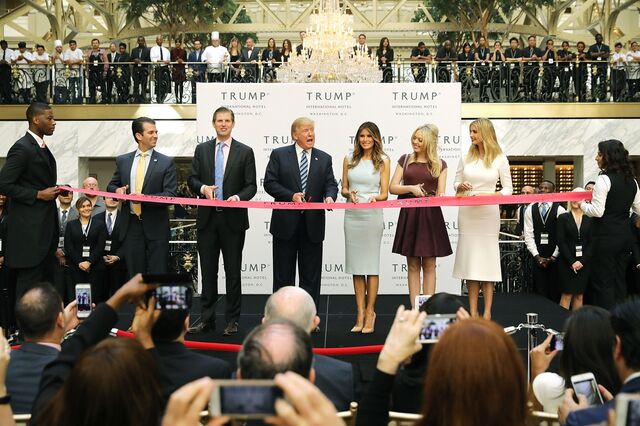 Trump Organization officials will task a Washington attorney and a veteran executive in President Donald Trump's businesses to help ensure separation between the White House and the family business, according to a person familiar with the matter.
Bobby R. Burchfield will become the business's chief compliance counsel and George A. Sorial will be its chief compliance officer, the person said.
Burchfield is a partner at the Washington-based firm King & Spalding and served as former general counsel to President George H. W. Bush's 1992 re-election campaign. Sorial has been an executive at the Trump Organization since 2007, serving as executive vice president and counsel.

Trump has received heavy criticism throughout his transition and his early days in office related to concerns about how he will separate himself from his many businesses while president. He has turned over leadership in his companies to his sons Eric and Donald Jr., but hasn't divested from them, meaning he continues to have financial ties to $3.6 billion of assets in about 20 countries, and more than $600 million of debt.
Sheri Dillon, a lawyer for Trump at Morgan Lewis, said at a Jan. 11 Trump Tower news conference that he'd appoint compliance officers to ensure that a bright line exists between Trump's administration and family companies. Walter Shaub, the director of the U.S. Office of Government Ethics, said the same day that Trump's plan was "meaningless" because he didn't divest ownership.
Ethicists' Complaints
Shaub was joined by several ethics lawyers, including those from the former George W. Bush and Barack Obama administrations, in condemning the plan.
"President-elect Trump should not be expected to destroy the company that he built," Dillon said.
The company has said it won't do new international deals while Trump is president, and hasn't clarified if that includes renewals of existing licensing deals for Trump-branded projects. It has left the door open to domestic deals, which would be vetted by the compliance officers, Dillon said.
Among the biggest conflicts posed by Trump's businesses are his hotel in Washington, which is leased to him by the U.S. General Services Administration. Language in that contract bars elected officials from benefiting from the arrangement. There are also concerns about relationships with international businesses. The Industrial & Commercial Bank of China, a state-owned entity, is a tenant in Trump Tower in Manhattan. And Trump's business partner in the Philippines has been named special government envoy to the U.S. for that country's president, Rodrigo Duterte. 
For four decades, incoming presidents and vice presidents have gone to great lengths to establish clear lines between their governments and their personal fortunes. Vice President Nelson Rockefeller turned over 10 years of tax returns to the Federal Bureau of Investigation, and Congress held hearings on the finances, which derived from his famously wealthy family.
President Jimmy Carter placed an independent trustee in charge of his family's peanut farm in Georgia, and Vice President Dick Cheney sold his shares in Halliburton Co., where he had served as chief executive officer, and earmarked proceeds from unvested stock options for charity. Presidents Bill Clinton and George Bush sold their assets and placed the proceeds into true blind trusts.
Before it's here, it's on the Bloomberg Terminal.
LEARN MORE