Tribune Media CEO Departs as Deals Seen Picking Up Under Trump
By
Director Peter Kern will serve as interim CEO during search

Liguori sold Tribune's Gracenote to Nielsen last month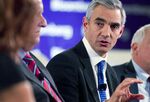 Peter Liguori is stepping down as chief executive officer of Tribune Media Co. as the company refocuses on TV broadcasting and searches for deals in a looser regulatory environment under President Donald Trump.
Liguori, who has been CEO since 2013, will also resign from the board of directors following Tribune's fourth-quarter and full-year earnings release, expected in March, according to a statement Wednesday. Peter Kern, a board director with 25 years experience as an investor and M&A adviser, will serve as interim chief executive while Tribune Media looks for a replacement.
Liguori, 56, is leaving after a tough year for the Chicago-based broadcaster. The shares declined 7 percent, while other broadcasting and media stocks soared 23 percent, as the company struggled to turn around its flagship WGN America cable network and find its footing in a "skinny" bundle world with fewer channels, online streaming and fickle viewers.
After taking a formal look at Tribune's strategic options a year ago, Liguori struck a deal in December to sell Tribune's Gracenote audio-recognition software business to Nielsen Co. for $560 million. Noting that accord, Liguori said in the statement Wednesday that "now is the ideal time for a new leader to steer today's Tribune."
Original Shows
Tribune has tried to attract viewers and advertisers to WGN America with original programs like "Salem" and "Outsiders" -- and it's worked. But the higher programming costs have squeezed Tribune's profit margin, and cable operators have slimmed down their bundles of channels, leaving networks like WGN battling for a slot.
"The stock has been under a lot of pressure given the troubles at WGN America," Wells Fargo analyst Marci Ryvicker said in a note Wednesday.
Broadcasting companies have been combining to reduce costs and gain negotiating leverage with cable companies, which pay fees to rebroadcast local signals to subscribers, and television networks like CBS Corp., which provide programming and want a portion of that money. Tribune's stations include affiliates of CBS, 21st Century Fox Inc. Fox, Walt Disney Co.'s ABC and Comcast Corp.'s NBC.
Yet Liguori, a former Fox Broadcasting and Discovery Communications Inc. executive, had been hamstrung by federal rules barring broadcasters from exceeding coverage of 39 percent of U.S. television households. Tribune, the largest U.S. operator of broadcast stations by coverage, reaches about 44 percent of the population, according to a Bloomberg Intelligence analysis.
He's leaving just as new possibilities are opening up. Trump's nomination of Ajit Pai to be Federal Communications Commission chairman could trigger a wave of M&A in the industry. Pai is widely expected to ease restrictions on how many broadcasting assets one company can own in any given market as well as lift the ban on owning newspapers and broadcast TV stations in the same market -- a practice known as cross-ownership.
Merger Friendly
Generally, Pai has been more supportive of mergers than agency Democrats, for instance criticizing conditions the FCC often imposes on companies in return for letting them tie up. Yet the 39 ownership cap is up to Congress to change, which is possible, said Geetha Ranganathan, a Bloomberg Intelligence analyst.
Under Liguori, the company spun off its newspaper business in 2014, creating Tribune Publishing Co., less than two years after emerging from bankruptcy protection. Tribune Media has minority stakes in the Food Network and in website CareerBuilder, and it owns and manages real estate it values at more than $1 billion. Though its deal with Nielsen includes most of its digital and data business operations, including Gracenote, Tribune retained its ownership of websites Covers.com and ProSportsDaily.com.
Tribune Media is working with executive search firm Korn Ferry to find Liguori's replacement.
Before it's here, it's on the Bloomberg Terminal.
LEARN MORE