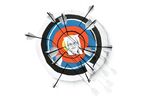 Steve Cohen had a target on his back. The government was determined to prove that the hedge fund manager, known on Wall Street for eye-popping annual returns of 30 percent, made some of his billions trading on inside information. Sheelah Kolhatkar, a staff writer at the New Yorker (and a former correspondent for this magazine), has written a fast-paced tale of how the feds worked for almost a decade to build a case against him, and why they couldn't indict him, in Black Edge: Inside Information, Dirty Money, and the Quest to Bring Down the Most Wanted Man on Wall Street (Random House, $28).
The story follows Cohen from his early days managing money at a scrappy brokerage firm, Gruntal & Co., to his founding of SAC Capital Advisors in 1992 and its dissolution in 2014. Along the way, SAC grew to manage almost $17 billion, much of it Cohen's own money. He outbid other titans for fancy real estate and modern art, including Damien Hirst's shark suspended in 4,360 gallons of formaldehyde, for which Cohen paid $8 million.
Kolhatkar paints a picture of a reclusive man who's quick to anger, driven by greed, and insecure about his place in moneyed society. (Growing up, the Cohens were on the "low end of the financial spectrum" in prosperous Great Neck, N.Y.) He's also an unflappable trader. At least one employee Kolhatkar quotes said his understanding was that giving Cohen your best trading ideas meant giving him inside information—the "black edge" of the book's title. While he was at Gruntal, allegations emerged in a since-dismissed lawsuit from Cohen's ex-wife that he traded on nonpublic information. At SAC, Cohen didn't ask for details on how a portfolio manager got his ideas, just his level of conviction.
The narrative weaves Cohen's middle-class-to-riches story into the government's simultaneous decade-long pursuit of other suspected Wall Street wrongdoers. Slowly, the U.S. Securities and Exchange Commission and the FBI uncovered consultants sharing nonpublic information with their hedge fund clients and analysts passing along inside information to their friends and bosses. Some conversations were caught on wiretaps. Time and again, the FBI approached these analysts and portfolio managers at their homes or after a workout: "We want to talk to you about insider trading," agents would begin. Usually, the targets folded, confessing to illegal activities and turning on their contacts or their superiors.
The government's pursuit of insider trading, and Cohen in particular, was covered extensively by major media outlets, including Bloomberg News. Kolhatkar smartly pieces together the best of that reporting and refines our understanding of the saga with as-yet-unpublished tidbits she gleaned through interviews and court documents. (Cohen declined to be interviewed for the book.) Most interesting among these details are government missteps. The SEC sat on reports of suspicious trading at SAC for almost a year, and the FBI put a wiretap on Cohen's Connecticut home just when he was spending most of his time in the Hamptons.
Kolhatkar started her reporting in 2012, when Cohen's future looked bleak, and she undoubtedly expected a different ending for the book. The government had just arrested Mathew Martoma, an SAC portfolio manager who they alleged had received inside information on the results of a drug trial and who'd had a 20-minute phone call with his boss that caused Cohen to reverse a giant trade. The feds expected Martoma would testify against him to avoid going to jail. Instead, Martoma refused to cooperate and went to prison. Later, a court threw out some of U.S. Attorney Preet Bharara's convictions, including one against another of Cohen's senior traders.
The government wanted to put Cohen in jail—or, failing that, keep him from managing clients' money forever. Instead, SAC, not Cohen himself, pleaded guilty to securities fraud in 2013, and the fund paid a record $1.8 billion fine. After dissolving SAC, he set up a family office, earning back the fine and more in the year after the guilty plea. The SEC banned Cohen from managing outside capital for two years starting in January 2016. He's already plotting his return.
Before it's here, it's on the Bloomberg Terminal.
LEARN MORE