Santander Chairman Sees Growth in All of the Bank's Markets
By
Brazil generates most income among bank's 10 main markets

Shares jump as profit beats estimates, bank grows capital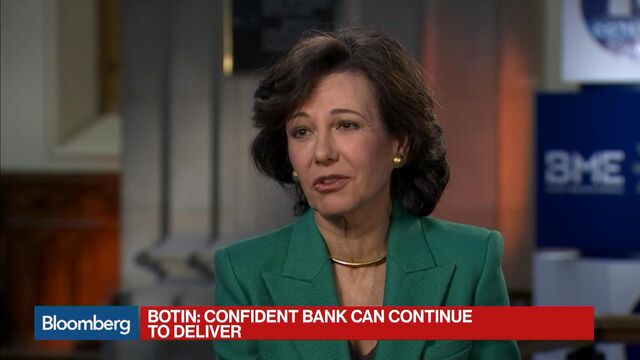 Banco Santander SA Chairman Ana Botin said she expects growth in all of the lenders' markets in 2017 after Spain's largest bank reported fourth-quarter profit that beat estimates. The shares jumped.
Net income rose to 1.6 billion euros ($1.72 billion) compared with 25 million euros a year earlier when profit was hit by charges, including provisions for the wrongful sale in the U.K. of payment protection insurance. Analysts had expected earnings of 1.48 billion euros, the average of five analyst estimates compiled by Bloomberg.
"I'm confident in our team and our capacity to continue to deliver," Botin said in an interview Wednesday with Bloomberg TV. "For the first time, I think, since 2010, every single one of our markets is expected to grow."
Since taking over in 2014, Botin has repeatedly pledged commitment to the bank's retail business in its 10 main markets, which include Spain, Brazil, the U.K. and Poland. Santander in September lowered its profitability target for 2018, citing diminished prospects for growth, especially after the U.K. voted to leave the European Union. Britain generates about a fifth of the bank's profit, the same as Brazil.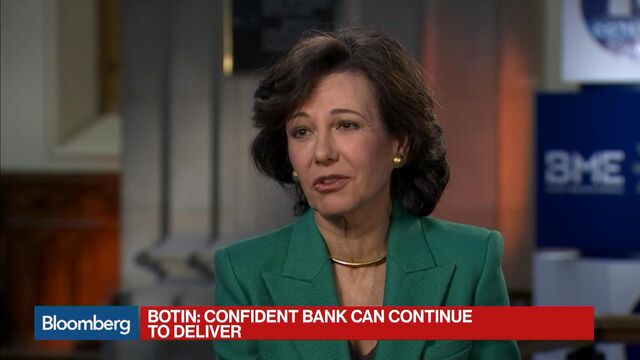 "We are expecting lower growth in the U.K. for 2017 -- not as slow as we expected before," Botin said in the interview. "We've grown our lending, we've grown our loyal customers -- it will be less growth but still positive."
The British business generated 474 million euros in net income, little changed in the European common currency but a 19 percent increase when accounted for pounds. Santander took a 137 million-euro charge to cover further claims of mis-selling loan insurance in the U.K. Botin said she doesn't expect the matter to cost the bank much more.

The shares jumped more than 5 percent in Madrid trading to 5.379 euros at 10:36 a.m., the highest since Aug. 31, 2015. The STOXX Europe 600 Banks Price Index was up 2.1 percent.
"Santander reported a very strong set of results," analyst Jose Abad of Goldman Sachs Group Inc. said in a note to clients. Capital generation and revenue beat expectations, with strong results in Spain and Brazil.
The South American country, now in its third year of recession, generated 60 percent more income in euros and 34 percent more in real. Net fees jumped 41 percent while net interest income in the unit rose 19 percent. In Spain, profit more than doubled, while net interest income fell 4 percent.
Net provisions for loan losses for the group fell to 2.4 billion euros in the fourth quarter from 2.6 billion euros a year earlier. Net fee income rose 8 percent.
Santander's fully loaded common equity Tier 1 ratio, a measure of financial strength, rose to 10.55 percent from 10.47 percent in the third quarter. Santander is seeking to lift the ratio, still low compared with European peers, above 11 percent by 2018.
Before it's here, it's on the Bloomberg Terminal.
LEARN MORE