Rome Mayor Raggi Says She Received Summons From Prosecutors
by
Mayor Virginia Raggi comments in post on her Facebook page

Her Five Star Movement, Renzi party almost tied in polls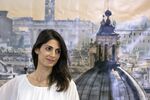 Rome Mayor Virginia Raggi, a member of the anti-establishment Five Star Movement, said she has received a summons from city prosecutors over a staff appointment.
Raggi, a lawyer who was elected mayor last year, wrote in a post on Facebook that the summons concerns her nomination of Renato Marra as head of the tourism department, which she has revoked. She said she had informed Five Star co-founder Beppe Grillo and the city council of the summons.
"I am very serene; I have full confidence in the judiciary, as ever," Raggi wrote. "We are ready to give every clarification."
Raggi's city hall administration has been plagued by resignations. Five Star, which wants a referendum on Italy's membership in the euro area, has remained neck and neck with the Democratic Party of Prime Minister Paolo Gentiloni and his predecessor Matteo Renzi in national opinion polls.
Five Star has made denunciations of political corruption one of its main themes, often calling for elected officials to resign if they are placed under investigation, long before a case comes to court. But under new rules posted on Grillo's blog earlier this month, Five Star officials do not have to resign automatically if they are investigated.
Italian newswire Ansa said Raggi was under investigation for alleged abuse of office in the personnel matter.
Early Elections
A spokeswoman for Raggi, in reply to a text-message from Bloomberg News, said she did not expect an additional comment would be made beyond the Facebook post. The Rome prosecutors' office did not immediately answer phone calls.
Renzi, who leads the Democratic Party and is pushing for early elections this year, urged his party not to attack Raggi. "I invite all the PD to respect the presumption of innocence and not chase after polemics," Renzi wrote on his Facebook page.
Alessandro Di Battista, a senior Five Star lawmaker, told La 7 television that Raggi had a duty to explain why she had made the appointment. "This isn't about public money, or decisions which affect a right of citizens," Di Battista said. "This would involve mistaken signatures, a mistaken nomination which was immediately revoked."
Before it's here, it's on the Bloomberg Terminal.
LEARN MORE