business
Productivity Hacks Are Dumb. Try This Instead
By and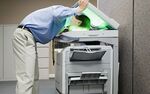 Most people wish they were more productive at work. To feed this never-ending desire for increased efficiency, an entire industry peddles so-called productivity hacks that promise quick fixes to snuff out procrastination and boost output. Unfortunately, most of this advice amounts to snake oil. 
This week on Game Plan, Sam and Rebecca take a novel path to solving their productivity problems: The subconscious. Gary Latham, an organizational psychologist at the University of Toronto, joins them to discuss his decades of research into how subtle influences to our psyches can help us get more done at work. Productivity here we come!
You spend more time at your job than anywhere else. Each week, Game Plan hosts Rebecca Greenfield and Sam Grobart take a close look at the way we live our lives at work—our frustrations, dilemmas, habits, and anything else that happens in the office.
Before it's here, it's on the Bloomberg Terminal.
LEARN MORE