May-Trump Trade Talks Hit by Lack of U.K. Negotiators, Officials Say
By
Top officials say International Trade Dept. short of key staff

'Desperate' May risks bad U.S.-U.K. deal after Brexit: Byrne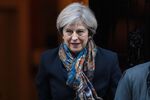 The U.K. doesn't have enough expert trade negotiators for talks on a sweeping new commerce agreement with the U.S., according to two senior British officials, raising concern that Prime Minister Theresa May could end up with a bad deal.
The six-month old Department for International Trade will need to launch a major recruitment drive to handle the workload that negotiations with U.S. President Donald Trump's administration will involve, the officials said on the condition of anonymity because the matter is sensitive. The disclosure prompted warnings that May's inexperienced and understaffed team could be out-maneuvered in talks with the U.S. 
"Donald Trump knows how desperately Theresa May wants this," Liam Byrne, a senior lawmaker on Parliament's international trade committee, said in an interview. "We have got to be incredibly careful about rushing into a bad deal. When it comes to the U.S., no deal is better than a bad deal."
May flies to the U.S. on Thursday and is expected to hold preliminary discussions on a trade accord with Trump in the White House on Friday. She wants a quick deal with America to bolster exports, boost British jobs and strengthen her negotiating position as the U.K. prepares to leave the European Union.
Ready to Sign
"The government is confident that it has the resources required to conduct that work," May's spokesman Greg Swift told reporters in London on Thursday. The Department for International Trade went into more detail in an e-mailed statement: "Ongoing recruitment is enabling us to build a team from the widest pool of talent in the civil service and externally, across a range of policy expertise and international experience."
If May and Trump were determined to push ahead with a fast agreement, the U.K. would have to hire and train negotiating staff even faster than planned, but any discussions with the U.S. would require significant extra personnel, the officials said. The government could recruit an army of technical experts in U.S. trade policies on a temporary basis, specifically to work on the May-Trump accord, one of the officials said.
An accord can be ready to sign as soon as the U.K. is legally free to do so, on the day it is due to leave the EU in 2019. "We will be looking for a U.S.-U.K. trade deal that improves trade between our two countries, that will bring prosperity and growth to this country, that will ensure that we can bring jobs to this country as well," May told lawmakers in London on Wednesday. "In doing that, we will put U.K. interests and U.K. values first."
The Department for International Trade was set up when May became prime minister last July in an effort to boost the U.K.'s global commercial activities after the Brexit vote. It has 2,700 staff, about half of them working in a network of countries overseas, according to an e-mailed statement. Officials said earlier in January that four of the most senior posts in the department were still unfilled.
Gentlemen-Amateurs
The U.S. government machine has far more recent experience on such work than the U.K. because the EU negotiates trade deals on behalf of all its members -- including Britain -- centrally.
"We have got to be really careful that we are not out-gunned and out-classed because we are only fielding our C-Team, which is all we have got at the moment," said Byrne, a former minister in the main opposition Labour party. "The U.S. has one of the best-organized and most powerful trade-negotiating machines on Earth. The idea that a few gentlemen-amateurs in Whitehall are going to go and beat Donald Trump's team -- and then the U.S. Congress, which has the final say -- is frankly optimistic."
While they are more experienced, Trump's own officials also have plenty of work to do themselves. The president has withdrawn from the Trans-Pacific Partnership trade deal with 11 other nations, and has promised to re-negotiate the North American Free Trade Agreement with Mexico and Canada.
— With assistance by Alex Morales, and Thomas Penny
Before it's here, it's on the Bloomberg Terminal.
LEARN MORE